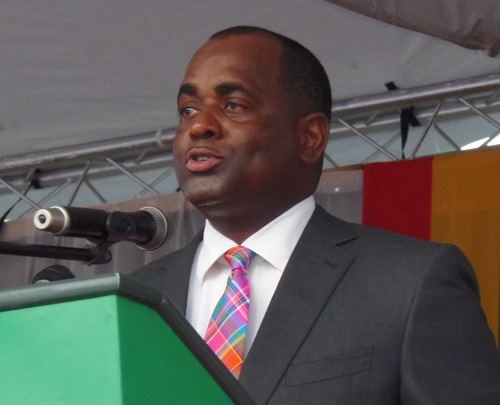 While addressing the general public on Dominica's 43rd Independence Day, Prime Minister Roosevelt Skerrit noted the several achievements and development that the island nation has achieved in past years. 
Prime Minister further emphasized the significance of the Independence Day theme, which was – "United in Purpose, Our Health, Our Heritage, Our Future". He further noted that the COVID-19 pandemic had affected the economy and health sector of every nation, to which the Dominican Government is keeping its primary focus on the health sector and saving the lives of its citizens. 
"While Government is collecting less revenue than expected, in order to save lives and protect livelihoods, we have had to prioritize the health sector and allocate significant resources to fighting COVID. Saving the lives of our people is paramount," PM Skerrit cited. 
He asserted that despite the challenges created by the global pandemic, the Dominican Government continue to work for the welfare of its citizens and is fulfilling its promises made to the general public. 
PM stated, "We have serviced our debt and kept the wheels of the economy turning, albeit slowly and under severe limitations. We have maintained all our social programmes and extended support to people affected by the pandemic. We have met the wages of all public officers on time and sent no one home, including our NEP workers."  
He focused that his administration is working to keep up with the economy of the country and provide a safe environment for the tourists and cruise ship passengers arriving in Dominica. 
"This Government will therefore continue to do our utmost to protect citizens and country while being prudent in our response," the prime minister noted. 
PM Skerrit also appreciated and expressed his gratitude to the neighbouring states, organizations and other nations who provided assistance, including vaccines to Dominica in the difficult times of the COVID-19 outbreak. 
Noting their contribution, he praised the frontline workers who are working day and night tirelessly to keep the citizens safe by risking their own life. 
"The fight against this dreaded virus is not for our health care workers alone. The entire country has a responsibility, through our collective actions, to eliminate this scourge from our shores," the prime minister added. 
Apart from this, he remembered the two great leaders who contributed in the development of Dominica, the nation's first Prime Minister, Patrick Roland John and Edward Registe, who was a sitting Minister of Government and Parliamentary Representative.