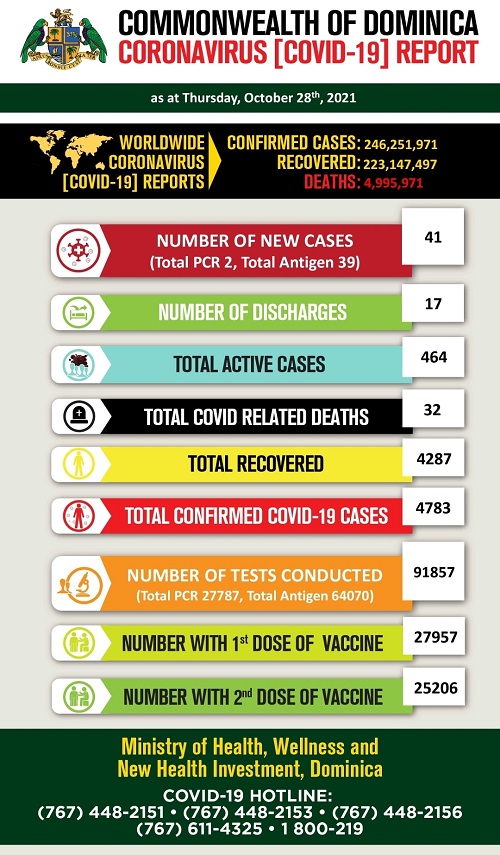 Roseau, Dominica: Seventeen COVID-19 patients got discharged from the hospital, taking up the total number of the recoveries to 4287, till October 28, according to the report by the Ministry of Health.
The report notes that a total of 41 individuals tested positive for coronavirus on October 28. With the arrival of these positive infections, the active cases have risen to 464.
Out of the new cases reported, two individuals tested positive from RT-PCR while the remaining 39 tested positive from Rapid Antigen Test. Since the COVID-19 outbreak emerged in the island country, a total of 4,783 people have contracted the viral disease.
On the other hand, in total 32 people lost their lives to the contagious mutant.
The Health Ministry's report further notes that till October 28, 2021, a total of 91,857 COVID-19 tests have been conducted on the island. Out of the total tests conducted, a total of 27787 tests were of RT-PCR and 64070 were Rapid Antigen tests.
The COVID-19 report further highlights the statistics of the COVID-19 vaccination, as per which a total of 27957 people have taken their first shot of the vaccine. While in total, 25206 individuals have received their second jab of the vaccine and are now fully vaccinated.
The Caribbean island has also started to vaccinate the age group of 12 -17 years from the previous month.
The citizens can contact the health officials at the provided hotline numbers that are – (767) 448-2151, (767) 448-2153, (767) 448-2156, (767) 611-4325.
Besides this, the Health Ministry is continuously urging the citizens to take their doses of the COVID-19 vaccine as soon as possible so as to win this battle against the coronavirus and asked them to follow the COVID-19 health protocols such as – wearing masks, sanitizing frequently, and maintaining social distance.
On Friday, the Caribbean island celebrated Creole day which represents the rich culture of the nation.