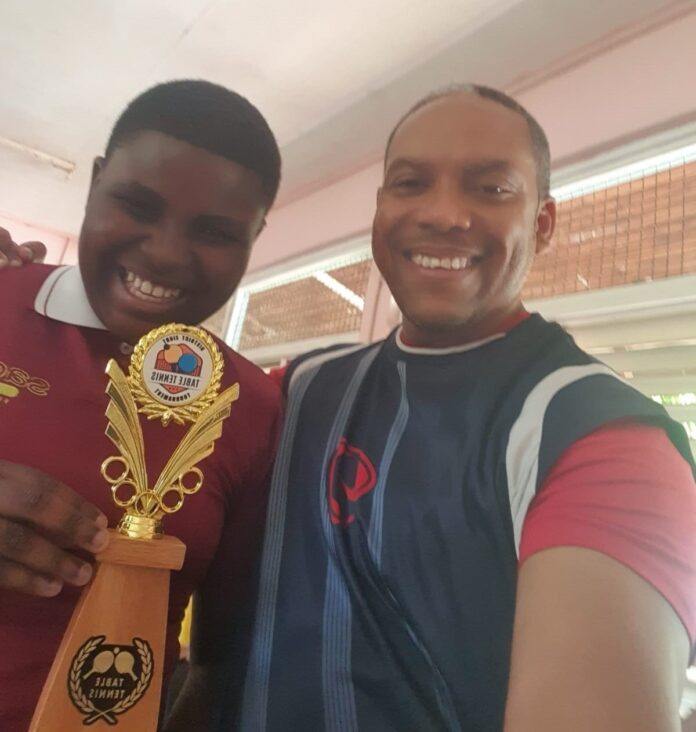 Castries, Saint Lucia: The District Eight Sports Committee, in collaboration with the Ministry of Youth Development and Sports hosted of Saint Lucia its annual Table Tennis Tournament on Monday, January 30th, 2023 at the Soufriere Primary School.
Participating schools included Bouton Combined, Canaries Primary, Fond St. Jacques Primary, Les Etangs Combined and Soufriere Primary. Each school fielded a team of four girls and four boys. The competition was keen and exciting as the players showcased their sporting skills.
In the Boys Category, Sherkim George of the Les Etangs Combined School emerged Champion, defeating 1st Runner up and outstanding tactical player McKenzie Henry of Soufriere Primary in the final. Second Runner-up and Outstanding Technical player was Samuel Joseph of the Les Etangs Combined School and Clayshawn John also from Les Etangs Combined, was 3rd Runner-up.
In the Girls Category, Dhatri Matadh of Soufriere Primary emerged Champion with the best mental focus award by defeating Nyssa Lascaris of Les Etangs Combined, who came in 1st Runner Up. Kayliegh Landers of the Les Etangs Combined School was awarded most outstanding physical player and was the 2nd Runner-up defeating Charleann Butcher (3rd runner up) of Soufriere Primary School in the 3rd Place playoff.
All the participants demonstrated outstanding dexterity and table tennis skills. They will square off against other competitors in the National Primary School Table Tennis Championships on Wednesday 1st and FridaFebruary 3rdry 2023 at the Indoor Facility in Gros Islet.
The Saint Lucia National Youth Council invites all youth in Saint Lucia and abroad between the ages of 10-35 years to join the Youth Movement.
Interested youth are hereby asked to join a committee that best suits the expertise in the following:
• International Affairs Committee
• Public Relations Committee
• Events Committee
• Fundraising Committee
• Arts & Cultural Committee
• Proposal-Writing Committee
• Sports and Wellness Committee
The Ministry of Youth Development and Sports of Saint Lucia also shared the update on Youth workers attached to the Youth Division on Wednesday received training in the use of the Skilled 758 App, which is designed to pair job seekers with potential employers in Saint Lucia.
The application will be launched soon and forms an integral part of the Ministry's thrust towards deeper and more rewarding engagement with the agency's constituents.