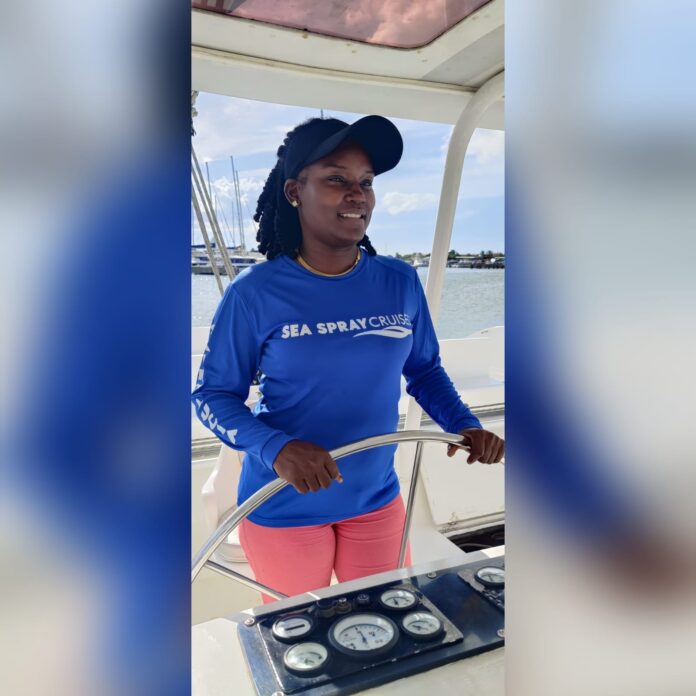 Castries, Saint Lucia: Saint Lucia Hospitality & Tourism Association – SLHTA felt delighted while announcing its outstanding team member, Merlika Modeste, for making waves at Sea Spray Cruises.
This month, Merlika Modeste became Sea Spray Cruises' very first female Captain to achieve this. Modeste, who hails from Barnard Hill, Conway, began working for the locally-owned tour operator over twenty years ago as a crew member. General Manager of Sea Spray Cruises, Corey Devaux, described Modeste as a luminary in the maritime industry. He emphasized that Captain Modeste's journey is a testament to the power of hard work, dedication and breaking barriers.
Devaux stated, "During her tenure at Sea Spray Cruises, Ms Modeste has consistently demonstrated an unwavering commitment to her craft. Her dedication to excellence is nothing short of inspiring, and her work ethic has set a high standard for all crew members to aspire to. Ms Modeste's journey is particularly remarkable. In an industry traditionally dominated by men, she has achieved a significant milestone by becoming the first female to captain day charter catamarans in Saint Lucia. Her achievement is not only a personal triumph but also a symbol of empowerment and an example of what is possible through determination and resilience," as per the SLHTA.
He continued, "We at Sea Spray Cruises deeply value Ms Modeste's contributions to our team. Her professionalism, expertise and leadership have not only elevated our services but have also set a shining example for her colleagues. As we look toward the future, we are excited to see Ms Modeste's continued growth and success. Her journey is a source of inspiration to us all, and we have no doubt that she will continue to achieve remarkable milestones in her career."
The General Manager noted that Modeste has been an integral part of the company for twenty years and expressed excitement for what the future holds. In closing, he said, "We are immensely proud of her accomplishments, and we eagerly anticipate the incredible journey that lies ahead. Thank you, Ms Modeste, for your dedication and the positive impact you bring to our team and the maritime industry as a whole!"