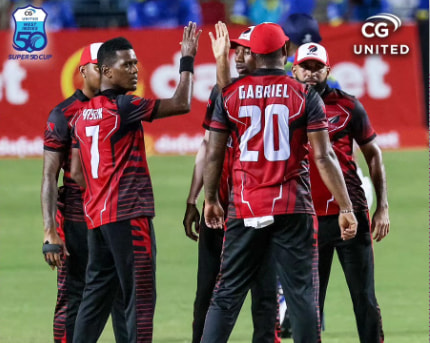 Trinidad and Tobago defeated Barbados by 78 runs at the Brian Lara Cricket Academy, Tarouba, in the CG United Super 50 on Sunday, 5th November 2023.
The names of the players who played for Barbados Pride:
– Dominic Drakes
– Kyle Mayers
– Shai Hope
– Jair McAllister
– Roshom Primus
– Kemar Smith
– Shamarh Brooks
– Roston Chase
– Akeem Jordan
– Zachary McCaskie
– Jomel Warrican
The players who played for Trinidad and Tobago:
Khary Pierre
Terrance Hinds
Shannon Gabriel
Yannic Cariah
Nicholas Pooran
Darren Bravo
Akeal Hosein
Jason Mohammed
Kjorn Ottley
Sunil Narine
Tion Webster
Toss Updates:
Barbados Pride won the toss and elected to ball first.
Umpires of the match:
– DK Butler
– CO Wright
TV Umpire of the match:
JM Williams
Barbados Pride bowling:
Roston Chase took the maximum wickets i.e. 3 in the first inning, while giving away 50 runs in 10 overs with an economy rate of 5.00.
Kemar Smith and Jair McAllister took 2 and 1 wickets at a rate of 46 and 36 runs, respectively.
Jomel Warrican, Kyle Mayers, Dominic Drakes, and Akeem Jordan were not able to contribute as wicket-takers in the match.
Trinidad and Tobago batting:
Darren Bravo was the star performer of the match as he scored 139 runs in 113 balls, hitting nine fours and seven sixes. He performed brilliantly, displaying his batting skills with an amazing strike rate of 123.
The second-highest run-scorer was Kjorn Ottley, who scored 36 runs in 38 balls with four fours.
Tion Webster scored 28 runs in 57 balls with four fours.
The rest of the players scored fewer than 20 runs and secured a total score of 293, losing six wickets in 50 overs.
Trinidad and Tobago bowling:
Sunil Narine took four wickets by giving away 13 runs in 10 overs with an excellent economy rate of 1.30.
Akal Hosein sent three batsmen of Barbados back to the pavilion, giving away 31 runs in 10 overs.
Yannic Cariah, Khary Pierre and Shannon Gabriel took one wicket each by giving away 51, 37 and 38 runs, respectively.
Barbados Pride batting:
Roston Chase fell short of securing a half-century by two runs.
Akeem Jordan couldn't perform more than 40 runs for the team.
The batsmen couldn't form a strong partnership and all of them got out at 215 runs in 47.2 overs.
Therefore, Barbados Pride fell short of 78 runs and lost to Trinidad and Tobago.