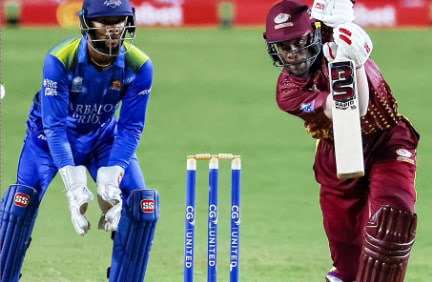 Leeward Islands Hurricanes won by four wickets against Barbados Pride at Brian Lara Cricket Academy, Tarouba, in the CG United Super 50 Cup, Match 24 on Thursday, 2nd November 2023.
The names of the players who played for Barbados Pride:
–  Roston Chase
–  Akeem Jordan
–  Kemar Smith
–  Shai Hope
–  Zachary McCaskie
–   Jomel Warrican
–    Roshon Primus
–    Kraigg Brathwaite
–    Dominic Drakes
–   Shamarh Brook
–   Javed Leacock
The players who played for Leeward Islands Hurricanes
Jewel Andrew
Keacy Carty
Terance Ward
Oshane Thomas
Kieran Powell
Kofi James
Alzarri Joseph
Justin Greaves
Jahmar Hamilton
Hayden Walsh
Daniel Doram
Toss update:
Leeward Islands won the toss and elected to ball first.
Umpires of the match:
TV Umpire of the match:
–   DK Butler
Leeward Islands Hurricanes Bowling:
Hayden Walsh and Alzarri Joseph both took three wickets each by giving away 43 and 34 runs in 8.0 and 9.0 overs, respectively.
Oshane Thomas sent two batters of Barbados Pride back to the pavilion at a rate of 35 runs.
Daniel Doram and Terance Ward both took one wicket each and summed up the first inning of the match by scoring 196 in 41.2 overs.
Barbados Pride Batting:
Shai Hope scored 55 runs in 76 balls. He was the highest run scorer from this team.
Moreover, the second-highest run-scorer of the first inning was Roston Chase, who scored 45 runs in 58 balls. The rest of the players scored fewer than 30 runs.
After the first inning, Barbados Pride set a target of 197 runs for Leeward Islands.
Barbados Pride Bowling:
The highest wicket-taker of the inning was Roston Chase, as he took four wickets by giving away 34 runs in 9.0 overs with an economy rate of 3.78.
Akeem Jordan and Kemar Smith took one wicket each while giving away 43 and 29 runs, respectively.
Leeward Islands Hurricanes Batting:
Justin Greaves was the highest run scorer of the match. He scored 95 runs in 120 balls. The match's winner was decided on the basis of the DLS method.
Therefore, Leeward Islands Hurricanes won the match by scoring 192 runs in 40.1 overs, defeating Barbados Pride by four wickets.
All in all, Barbados Pride is at the 2nd spot currently with 36 points and Leeward Islands Hurricanes is in 3rd position with 35 points in the points table of CG United Super50.