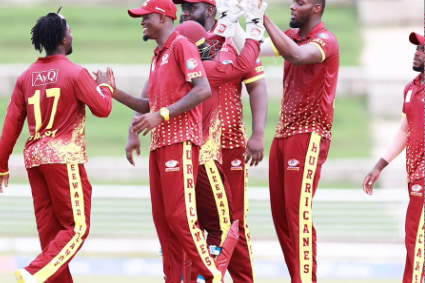 Leeward Islands Hurricane defeated the Windward Islands by 114 runs at the Queen's Park Oval, Port of Spain, in the CG United Super50 Cup on Tuesday, 31st October 2023.
The names of the players in Leeward Islands:
– Jahmar Hamilton
– Justin Greaves
– Kofi James
– Terance Ward
– Keacy Carty
– Alzarri Joseph
– Hayden Walsh
– Kieran Powell
– Jeremiah Louis
– Daniel Doram
– Karima Gore
The names of the players in Windward Islands:
– Shamar Springer
– Johnson Charles
– Sunil Ambris
– Kavem Hodge
– Andre Fletcher
– Shermon Lewis
– Jeremy Solozano
– Larry Edward
– Darel Cyrus
– Alick Athanaze
– Kenneth Dember
Toss updates:
The toss was won by Leeward Islands, and they decided to bat first.
The umpires of the match were namely:
GO, Brathwaite,
Z Bassarath
Windward Islands Bowling:
Shermon Lewis took the maximum wickets in the first inning, i.e. three wickets, by giving away 68 runs in 7.0 overs.
Shamar Springer and Darel Cyrus took two wickets at a rate of 45 and 52 runs, respectively.
Kavem Hodge and Kenneth Dember took one wicket each by giving away 37 and 31 runs.
Leeward Islands Batting:
Justin Greaves scored the maximum runs, 121, in just 126 balls.
Jahmar Hamilton hit the half-century in 72 balls. The rest of the batters got out under 30 runs.
Windwards Island sent all the players back to the pavilion and summed up the first inning in 293 runs. They set up the target of 294 runs for Windwards Island.
Leewards Islands Bowling:
Hayden Walsh was the highest wicket-taker from this team and took four wickets by just giving away 40 runs in 6.3 overs.
Daniel Doram sent two players of Windward Islands back to the pavilion at a rate of 29 runs.
Alzarri Joseph, Jeremiah Louis, Kofi James, and Terance Ward all took one wicket each.
Windward Islands Batting:
Shamar Springer scored 58 runs, and he was the highest run scorer from this team. He scored 58 runs in 69 balls. Alick Athanaze and Kavem Hodge scored 39 and 38 runs, respectively.
Larry Edward and Kenneth Dember could not even score a run and got out at zero.
Leeward Islands bowlers summed up the Windward Islands inning in just 179 runs in 42.3 overs.
All in all, the powerful hitting of Justin Greaves and the amazing performance by bowlers led their team to a victory by a huge margin of 114 runs.