Castries, Saint Lucia: Saint Lucia raised its international profile at the World Travel Market, one of the largest annual travel shows held in London from November 6-8, 203.
The event was hosted for three days, which attracted a diverse demonstration of participants, government representatives, travel trade partners, media and consumers, among others. 
Saint Lucian Tourism Minister Ernest Hilaire, accompanied by Thaddeus M Anthoine as the Chairman of the Board of Directors and Lorine Charles-St Jules, the Chief Executive Officer, led the delegation.
The Minister got into discussions with key UK tour operators, travel agents and airlines while focusing on the plans and partnerships for 2024 and beyond. 
The Saint Lucia Tourism Authority highlight the lively spirit of Saint Lucia Carnival at the World Travel Market in order to promote tourism. The event featured the following,
– A dazzling showcase of costumed dancers
– Steel pans
– Drawing enthusiastic crowds
– Rum tasting
Minister Hilaire expressed his gratitude for collaborating with the travel trade partners and media in the coming year. He stated that this year's World Travel Market was extremely productive, which will allow them to establish new connections.
He further stated the outcomes of meetings with prominent airlines and tourism authorities. Key discussions were held with Virgin Atlantic and British Airways to advance the number of seats out of the United Kingdom (UK) during the off-peak season.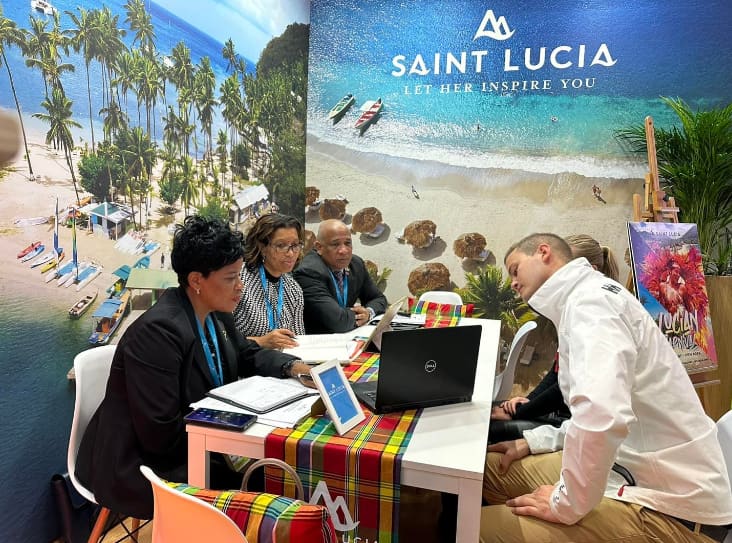 Notably, the Saint Lucian delegation interacted with the Saudi Arabian Tourism Authority to explore the avenues for growth in the Middle Eastern market.
Minister Hilaire and the Saint Lucian delegation looked to further advance its appeal and attract a broader range of visitors throughout the year by deliberately seeking collaborations with airlines and exploring new markets.
It is to be added in Minister Hilaire's remarks that Saint Lucia's proactive point of view on expanding airlift and venturing into new markets exemplifies its commitment to remain at the forefront of the evolving travel landscape.