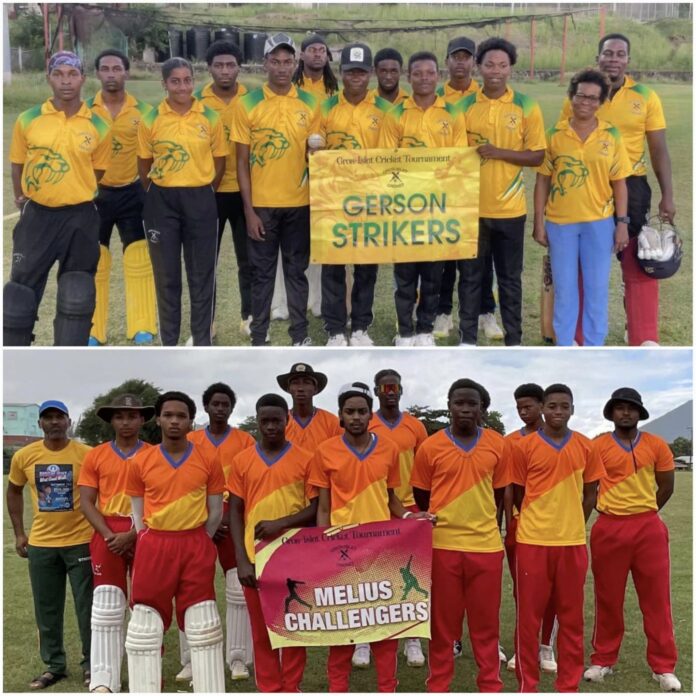 District Representative Gros Islet community of Saint Lucia, Kenson Casimir, has sponsored The 2023 Gros Islet Domestic Cricket Tournament. The sports tournament continued on Saturday, February 4, at the Gros Islet Playing Field. In the morning session, young cricketers ages 13 years and under were engaged in match scenarios. The batters batted in pairs against opposing bowlers.
The stand-out batters in the morning session were; Aiden Scholar, with 47 scores in his favour; Jn Claude Emmanuel, with 33 runs; Kaiden Francois scored 29 runs in his turn; And Kenil Nelson had a total of 26.
The feature match of the day was a 50-over-a-side match between GERSON STRIKERS and MELIUS CHALLENGERS. During the said match, MELIUS CHALLENGERS got the chance to bat first. The team was dismissed for a cumulative score of 203 in 46.1 overs. Notably, in these innings, Amari Venner, a player of the Challengers, scored a well-put-together 60. The score consisted of 9 fours. Meanwhile, Stephen Abraham scored 39 runs, Royce Paul 23 and Johnathan Daniel 18.
The wicket takers for GERSON STRIKERS were: Kyle Adonis with 4 for 23 in 7.1 overs, Johnnel Eugene with 2 for 33 in 10 overs and one wicket each to Bjorn Fanis, Isaiah Jones, Jaden Elibox and Lee Solomon. In reply, GERSON STRIKERS finished their innings at a score of 207 for four wickets in 31.1 overs. Notably, their star team player Johnnel Eugene made a good-looking 59 runs. This inning consisted of 8 fours and two sixes.
Another star player, Jaden Elibox, scored an enterprising 57, not out. His innings consisted of 5 fours and five sixes, Mateo Bolounge 24, Lee Solomon 18 not out and Vidal Crandon 17.
The wicket takers for MELIUS CHALLENGERS were; Tori Polius with 2 for 47 in 9 overs and one wicket each to Amari Venner and Dillan John. The man of the match award went to JADEN ELIBOX for his explosive knock of 57 not out. The tournament continues on Sunday, February 5, with GOODMAN WARRIORS and EDWARD BLASTERS clashing from 10:00 am at the Gros Islet Playing Field in a 50-over-a-side match.