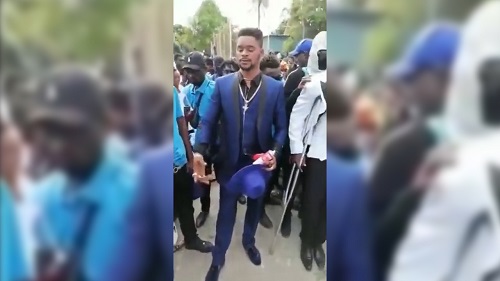 Port-au-Prince, Haiti: The Haitian gang's leader who abducted 17 US and Canadian missionaries a few days back has warned to kill the hostages if he does not get what he needs.
The leader is seen warning in a video that was posted on Youtube. The man is seen dressed in a purple suit identified as the leader of Haiti's 400 Mawozo gang.
The man cited in the video, "If I do not find what I need, these Americans, I would rather kill them all, and I will unload a big gun in the head of each of them."
Justice Minister – Liszt Quitel informed that the abductors have asked for – $17 million ransom amount for the release of the missionaries.
These missionaries were kidnapped on a trip organized by Ohio-based Christian Aid Ministries. Among the abducted group, there are five men, seven women and five children.
Earlier this week, the Justice Minister informed that both the Haitian police negotiators and the FBI are advising the missionary group on how to continue and that talks are ongoing. FBI agents are on the ground in – Haiti helping with the investigation but are not leading the talks, nor have they spoken directly with the kidnappers.
Haitian authorities have already earlier warned the kidnappers not to harm the hostages and informed them that the hostages were safe prior to the video of the gang being released.
The authorities have stated that they are working to bring back those hostages safely.
The abduction cases are becoming normal in the Caribbean island, which is engraving fear among the visitors and as well as in the citizens. Haiti is the most impoverished country in the Caribbean region, who is having the highest crime rate.
A few days back, Prime Minister Ariel Henry, along with his security force, were forced to flee an official ceremony in the capital by heavily armed gang members who then marched in the delegation's place.