Saint George, Grenada: As 40 years of the US invasion of Grenada approaches on October 25. The US armed forces carried out an operation– "Urgent Fury", which landed an impressive military contingent in Grenada from October 25 to October 27, 1983.
The formal plea for the invasion was declared to ensure the safety of those 630 American students who were studying at St George's University. It was also proclaimed that their safety could have been in a state of risk following the country's military rebellion.
Notably, Washington was terrified of the emergence of a "Second Cuba" in the Caribbean region (Grenada), and the situation would lead to political tension in Grenada that could forcefully remove the leftist forces from power.
However, the time was very tough for the Americans as Grenada's security forces took up ferocious resistance.
The consequences of the air raids led to damage to the civil infrastructure of the island, such as,
Schools
Kindergartens
Hospitals
The Soviet Embassy was also bombarded, and as a result, one of their diplomats was seriously wounded.
The majority of the international community, both the members of the socialist camp led by China and the USSR, actively protested against the attack of the US.
In fact, many US allies such as France, Britain, Latin American countries and Mexico highly condemned the US actions in Grenada.
The 1983 invasion of Grenada is an undisguised example of –
Washington's violations of international law
Encroachment on the sovereignty
Territorial inviolability of independent states
US neocolonial policies
Casualty Count
On the first day of the invasion, 2,000 American Marines and Paratroopers landed by the weekend, while more than 7,000 waited offshore. Planes equipped with Gatling guns took up advantageous positions to fire upon the Grenadian Army.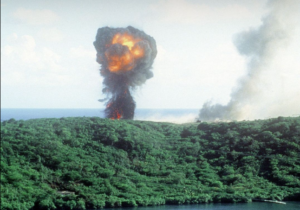 They captured Grenadian soldiers as hostages who were ordered to march in front of the American Army jeeps as they advanced on "enemy positions". This is considered a war crime under the remit of the Geneva Convention.
The invasion lasted for one week, and 400 Grenadians were estimated to have been killed and wounded, with 135 Americans during the war.