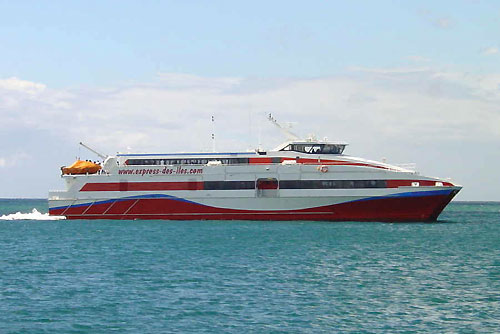 The Dominican government on Tuesday announced that it is resuming ferry services to the neighbouring French island countries. The announcement was made by the – Parliamentary Secretary Chekira Lockhart-Hypolite, during a media conference, where she noted that this decision has been taken under strict COVID-19 guidelines. 
The services will reopen on a phased basis, and in the beginning phases, only 50 individuals will be permitted to disembark in Dominica, she noted. 
Following the COVID-19 outbreak, the Dominican government closed the ferry services in the month of March 2020. 
"Dominica is very happy to welcome back our neighbours via Ferry," cited Parliamentary Secretary Chekira Lockhart-Hypolite during her address. 
Following the statement, she highlighted that Dominica is having a quite long history of social and trade connectivity with its neighbouring French islands through Ferry. 
Lockhart-Hypolite also noted that the "French islands contribute highly to stay-over visitors in Dominica," adding that Dominica's tourism department has worked closely with the health ministry to make sure that fresh COVID-19 health protocols are being introduced as the island resumes ferry services for its neighbouring states. 
Following are the COVID-19 travel protocols for the Ferry passengers arriving in Dominica – 
They will be required to present a – negative RT-PCR test, which must be taken 72-hours prior to their arrival in Dominica. 

Health notification of approval to travel to the island. 

The passengers would also be required to complete a health questionnaire upon their arrival.

To show their Vaccination certificate (if present)

While the vaccinated travellers would have to undergo a rapid antigen test, and if tested negative, the individual will be declared as medically fit. 

The non-vaccinated/unvaccinated passengers arriving in Dominica via Ferry would have to undergo a rapid antigen test, which will be followed by a five to seven days mandatory quarantine.