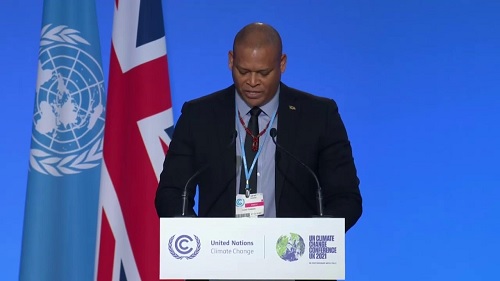 Minister for Environment, Rural Modernization and Kalinago Upliftment – Cozier Frederick represented Dominica at the COP26 climate summit. During his address, he emphasized the impacts of climate change on the Caribbean islands, noting that the world needs to come together to work for climate change. 
Minister Frederick further called on the developed nations to help "Small Island Developing States- SIDS" tackle the issue of climate change. 
"Dominica has always been very clear about its commitment to work for climate change, but the clock is ticking, and we cannot do it alone," the Minister added. 
He then highlighted that when "Hurricane Maria in 2017″ extensively impacted Dominica, then the nation commenced efforts to become first climate-resilient country in the world. 
Following the statement, the Minister stated that "We all have limited resources, we are throwing everything we have at achieving this, but we are running out of time to reverse the destructive environmental practices that are already having drastic consequences for small island developing states". 
With this, he added that in several nations such as – Dominica, children are witnessing severe impacts of climate change, noting that, "Our young people now face an unprecedented threat; they will inherit what has been referred to as triple jeopardy of crippling debt, degraded environment and frequent destructive disasters". 
He further outlined that there is no viable long-term debt-reduction strategy for SIDS nations, as they have high levels of debt distress linked to responding to climate impacts, adding that these are the countries that are getting highly affected by climate change but gets less than 2% of the climate finance. 
"I am a proud descendent of the Kalinago who fought to protect our islands from the – onslaught of colonization, we came close to extinction, but courage and resilience sustained us."
He further underlined the efforts of Dominica to lessen the impacts of climate change, such as – by using more sustainable tourism paths, digitizing the economy, decarbonizing and using renewable energy.