Dominica, the Island nation, is one of the most adventurous places to visit. It has been nicknamed as 'Nature Island of Caribbean' which relaxes an individual's heart, mind, and soul.
Dominica is a remote and affordable place to visit, and such places should be more comprehensive than just one or a few days away.
Exploring its breath-taking mountains draped in lust tropical rainforest, endless hiking trails, some 40 dive sites and beautiful black–sand beaches.
What irritates a person the most is when one doesn't get the proper travel facility. So, the Island Nation offers the best travel amenities to wander around the Island.
The facilities include:
TAXI SERVICE
Taxi is available from any part of the Island, either from the airports or from the capital of the nation, Roseau.
One can recognise the taxi services by seeing their number plates if the letters such as H, HA or HB are mentioned before the registration numbers or not.
Travellers wanting access to the taxi service can request the Taxi dispatch at the Douglas Charles Airport.
List of suggested Taxi Services:
Mally's Taxi Service
Nature Island Taxi Association
Alexis Taxi Services
BUS SERVICE
Dominica also provides the services of private minibuses. The Island nation has a reliable public transportation system. Bus stops are conveniently located at the designated points depending on a person's destination.
The bus fares are systematized, ranging from EC$1.50 to EC$10.25 based on their route.
Such bus travel is more suitable during the day rather than at night.
CAR RENTALS
Dominica has multiple car rental agencies that offer car services on a rental basis. However, the driver needs a license, which costs $30 (US$12).
One can also obtain driver license if they are of age between 25 and 65 years. To qualify for a driver's permit, one should also have the driving experience of at least two years.
The suggested Car Rental Services are:
Access Car Rental
Paradise Rent a Car
Yadah Car Rental
LaRonde Rent-A-Car
Island Car Rental
Few of the places to explore in Dominica
Boiling Lake:
Exploring the world's second-largest boiling lake is an incredible adventure in Dominica. It offers both a fantastic experience and a test of endurance. Boiling Lake is situated in the Valley of Desolation. It took a person to another world altogether.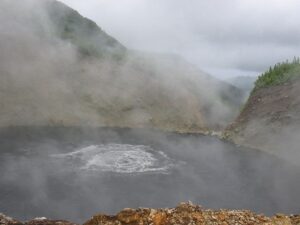 Cabrits National Park:
Cabrits National Park is located on a peninsula at the northern tip of the Island, just beyond Portsmouth. It was  Established in 1986, it covers 1313 acres, safeguarding tropical forests, coral reefs and wetlands.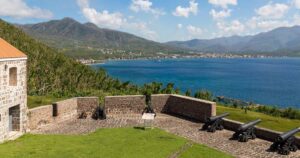 Kalinago Barana Aute Cultural Village:
The Kalinago Barana Aute is located across the stunning Atlantic Coast in the beautiful and rugged Carib territory of Salybia. This place showcases a perfect blend of cultural, rich heritage and natural beauty. Tourists can immerse themselves in the rich culture with traditional crafts, enchanting dance performances and many more.
Wotten Waven Sulphur Springs:
Wotten Waven is famous for its natural hot sulphur springs and mud pools that have medicinal qualities. It's a must-visit destination for those seeking relaxation and rejuvenation in the heart of nature.
Hence, there are many other places to explore in Dominica, and several facilities are provided to the travellers by the island nation.
The island is ultimately a paradise which is waiting to be discovered more.