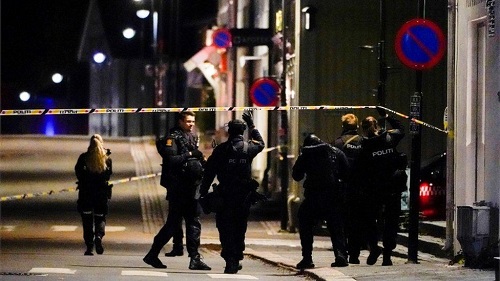 Oslo, Norway: Police authorities of Norway have arrested a 37-year-old man as a suspect for killing five people and leading to 2 injuries in a Bow and Arrow attack in the Norwegian town of Kongsberg on Wednesday.
The attacker initially entered and attacked inside a Coop Extra supermarket on Kongsberg's west side. Among the injuries, there was an off-duty police officer who was in the shop during the time of the attack.
As per the reports, no staff member of the shop was injured or killed. Police officials were informed at 18:13 local time.
The Police authorities have stated that this could be a terrorist attack which they will investigate. Police have cordoned some parts of the town.
Stating the incident as "Horrifying", the Prime Minister of Norway – Erna Solberg, cited that, "I understand that many people are afraid, but it's important to emphasise that the police are now in control."
Local police chief – Oyvind Aas further confirmed that the attacker had managed to escape an initial confrontation with police before an arrest was finally made at 18:47 local time, 34 minutes after the attack began.
One of the eyewitnesses narrated parts of the incident. She asserted that she heard a commotion and saw a woman taking cover, then a man standing on the corner with arrows in a quiver on his shoulder and a bow in his hand.
"Afterwards, I saw people running for their lives. One of them was a woman holding a child by the hand," she added.
Kongsberg Mayor – Kari Anne Sand stated that it was a shocking attack that had taken place in an area where many people lived and that a crisis team would help anyone affected.
After his arrest, the suspect was taken to a police station in the town of Drammen, where a lawyer chose to defend him, Fredrik Neumann, who said he was cooperating with authorities.