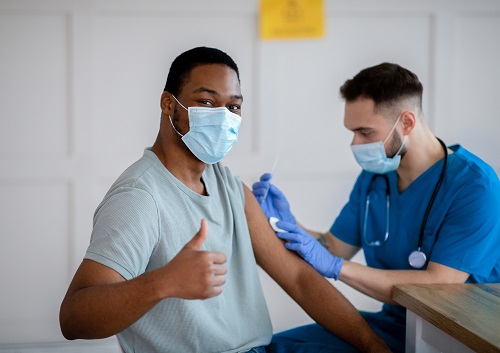 St Kitts and Nevis COVID-19 vaccination report issued by the Ministry of Health shows that till December 15, 2021, around 81% of its adult population is immunised by taking atleast one dose of the COVID-19 vaccine.  
While around 74.8% got their required jabs of the WHO-approved COVID-19 vaccine and are now fully immunised.   
The data in the health ministrys' report further highlights that about 15.4% of children are partially vaccinated by taking their first jab, whereas 13.2% of children are fully inoculated by acquiring their second jab of the COVID-19 vaccine.  
The twin-island Federation has also started to provide the eligible population with booster shots, to which so far, 3.7% population has received it.  
The COVID-19 vaccination report further reveals – 
The total number of doses administered: 54,077. 

Doses administered in St Kitts: 41,163.

Doses administered in Nevis: 12,914. 

The total number of booster shots administered: 1234.
As the COVID-19 infection is decreasing in St Kitts and Nevis, no additional COVID-19 case was recorded on December 15, 2021, the total number of active cases remains at 8. 
No death was recorded in the twin-island Federation in the past few weeks. So far, a total of 2,761 patients have recovered from the contagious mutant and have been discharged from the hospital facilities, as per the COVID-19 update report.  
Since the COVID-19 pandemic emerged in St Kitts and Nevis, it reported 2797 total confirmed cases of the COVID-19, out of which 2330 were recorded in St Kitts and 468 in Nevis island country, the report of the health ministry cites.  
The government has set the target to fully inoculate its 70 percent of the population.  
If the general public needs any assistance regarding the COVID-19, they can call on the helpline numbers at – (869) 467-1146/1233 (St Kitts), (869) 469-5521, 2035/2051/(869) 469 -8010 (Nevis island).