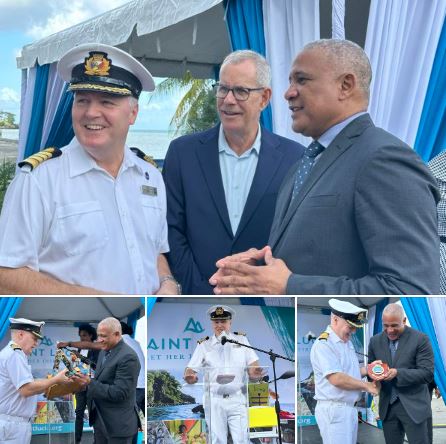 Saint Lucia: Deputy Prime Minister and Minister of Tourism, Investment, Creative Industries, Culture and Information Ernest Hilaire participated in the welcome ceremony to the largest cruise ship, Arvia. The cruise ship was docked at Port Castries with 4,365 guests.
Along with him, the government of Saint Lucia also felt delighted after welcoming the newest vessel of P&O Cruises on her maiden call from the Mediterranean to the destination on January 18, 2023 (Wednesday). The Arvia is a new excel class ship that joined the P&O Cruises' fleet expansion plan in December of 2022.
The Ministry of Tourism, Saint Lucia Tourism Authority, Saint Lucia Air and Sea Ports Authority, Invest Saint Lucia, cruise agents Cox and Company Limited, and the Saint Lucia Hospitality and Tourism Association are elated to welcome such an iconic vessel to the island's shores.
The itinerary for Arvia's inaugural visit to the beautiful Caribbean country has been designed to offer passengers the best possible experience as they explore the island's stunning natural beauty and rich culture.
While sharing the schedule of the cruise ship, the Ministry of Tourism of Saint Lucia for January 18 was
7:30 am – Arrival of Arvia into Port Castries
8:30 am – Disembarkation of Guests / Crew. (Guests will be greeted by the sounds of steel pan music)
9:15 am – Minister Greets Guests over the PA system as they gather for Tours
9:20 am – Cultural Festival commences
9:50 am – Meet and greet of Vice President, Captain, and Tourism Officials
10 am – Plaque Exchange Ceremony
10:30 am – Sip and Paint with steelpan music commences at Heroes Park (along the main highway to the city)
11 am – 1 pm – Cultural Solo music expo at the Castries Market Steps.
The Tourism Ministry further stated, "We are proud to welcome #Arvia to Port Castries. Saint Lucia Tourism Authority CEO Lorrine Charles St Jules registered her pleasure for the historic visit at today's plaque exchange."