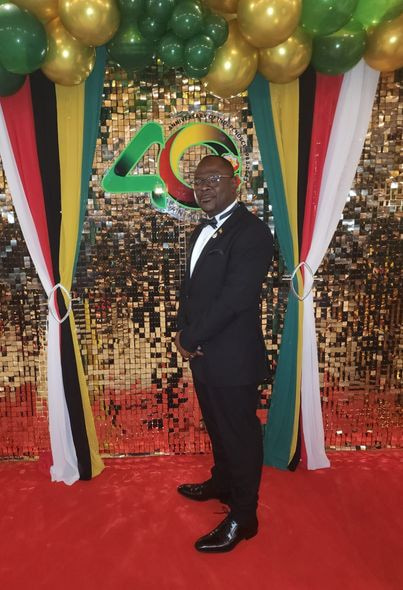 Basseterre, St Kitts and Nevis: Prime Minister Dr Terrance Drew hosted the 40th Independence Anniversary Black Tie Gala of St Kitts and Nevis at the Organization of American States in Washington, D.C on Friday.
St Kitts and Nevis celebrated the 40th anniversary of the Independence on September 19, 2023 under the theme, "Growing Sustainably, Developing Maturely, Building Resiliency: Independence 40".
In a press conference with a cabinet of ministers on Thursday, May 18, at the NEMA conference room, Prime Minister Dr Drew explained the thought process that went into capturing the theme.
During the gala, PM Drew said, "There were three factors contemplated in my mind as I considered drafting a theme,
I reflected on the strides made by the nation.
I mentally debated the current issues that must be addressed if we are to become a sustainable island state.
I envisioned the behavioural and attitudinal changes needed for our federation's future to be one that leaves not a single citizen or resident behind."
The theme was chosen from over four hundred entries that were submitted and won by Reverend Damien E. Hughes of Challenges Village, St Kitts. Mr. Hughes expressed his thankfulness that his entry was selected as this year's winning theme.
He said," I feel humbled and grateful to God that the message I have tried to communicate via the theme will be given a national platform to serve as another impetus for us to truly pursue what our independence fathers and mothers envisaged for us as a nation when they began this journey more than 40 years ago".
St Kitts and Nevis is one of the last Caribbean nations to get governance autonomy and marked themselves as an independent country on September 19, 1983, with Kennedy Simmonds being the first Prime Minister of the country.
Glimpses of St Kitts and Nevis's 40th Independence Celebrations-
The main highlights of the celebrations featured-
A night filled with cultural splendor
Dazzling attire and camaraderie.
Prime Minister's speech and mesmerising performances
Series of events: 40th Independence Anniversary of St Kitts and Nevis-
The celebrations hold an exciting slate of activities for their people. The launched event for the 40th Calendar was inaugurated on Friday, July 14. The celebrations started more than two months before the main event. Some of the events mentioned below-
July- The month of July included events like the launch of the National Song Competition, Conversations- Reflections and the Way- forward.
August- Christena Disaster Memorial Service, National Tree Planting Day and National Health Symposium.
September- East Basseterre Festival, Movements by SKNAAA, Cabinet Primary School Visit, Nations League Game: St Kitts and Nevis vs Guadeloupe, Caribbean Wellness Week, Prime Minister's lectures series, Youth Impact Awards, Independence 40 concerts and so on.
October 15- Independence 40 Musicals.