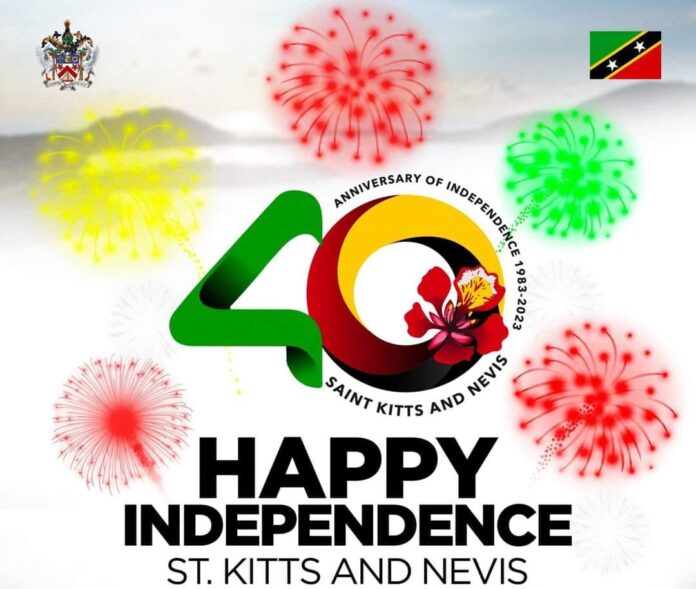 Basseterre, St Kitts and Nevis: The twin-island Federation of St Kitts and Nevis celebrated 40 years of Independence on September 19, 2023. On this occasion, the nation garnered congratulatory messages from local and regional ministers and leaders.
In this regard, Prime Minister Dr Terrance Drew also took an official social media account to wish the general public of the Federation. He noted, "Happy Independence Day to our beautiful Federation. Sweet Liamuiga and Oualie, Saint Kitts and Nevis."
Along with him, Deputy Prime Minister of St Kitts and Nevis, Geoffery Hanley, took his official social media account and expressed his wishes towards every St Kittitian and Nevisian. He mentioned, "Today, Tuesday, September 19, 2023, St. Kitts and Nevis ushers in a pivotal celebration in the history of our nation as we celebrate 40 years of Independence."
DPM Hanley added, "It is with great joy and pride that I celebrate this historical day that is evidence of our ability to chart our own path. Successive governments have contributed to the foundation laid by the founding fathers of our nation, and we can only advance as a nation when we continue to build on those pillars designed to help us grow from era to era."
He mentioned that he is proud to be part of a government that encourages young people to be actively involved in nation-building and the experienced men and women in society to give back so everyone can continue to build an Independent Nation.
Emphasising the nation reset, Minister Hanley asserted, "Saint Kitts and Nevis is moving forward, and as we reset at 40, it is my hope that we can capitalise on all of our resources to strengthen our lands for the greater good."
"To Everyone, Happy 40th Independence!! Three cheers for 40 years!!!!!!!" he concluded.
Foreign Affairs Minister of St Kitts and Nevis, Denzil L Douglas, also joined the league and greeted the locals. He thanked the almighty lord for his blessings on the Federation.
Dr Douglas, through his official Facebook handle, shared a player for the completion of 40 years of Independence, which read, "May God bless our Land & Citizens near and far, may we always acknowledge You as the Creator and Maker of us all, keep us Together, through all of our differences; political, religious and/or cultural, still one large Family and one Heritage."
Minister Douglas, who is former Prime Minister of the Federation, further mentioned that "40 years of growth, development, setbacks and disasters, but you've made us more Resilient and Strong." Happy Independence 40, he wished.
Minister of Tourism Marsha T Henderson also took her official Facebook account to connect with the locals of St Kitts and Nevis. Minister noted, "O Land of Beauty! I will always serve and honour the St Kitts and Nevis. Happy 40th anniversary of Independence to my St Kitts and Nevis."
Furthermore, the Premier of Nevis Island Administration and the Minister of Opposition of St Kitts and Nevis – Mark Brantley also wished the public of the nation. He wished the public, on behalf of his family, as well.
He wrote, "From Sharon and me, Happy Independence to our beloved St. Kitts and Nevis. We wish you love, peace, success, good health and abundant happiness." Additionally, Premier Brantley shared a glimpse of the celebration and anticipated to have more years of glory and success.
Besides ministers, locals also gathered to wish the general public and their leaders on this auspicious and special occasion. People expressed gratitude and love towards their nation and its government, wishing for a more developed and better St Kitts and Nevis. Some even expressed thank you towards the government for all their hard work and efforts.
It is worth noting that the celebration for the 40th Independence Day was started a few weeks back across St Kitts and Nevis. To make it successful and enjoyable, every minister got engaged in different activities at the community as well as regional levels.