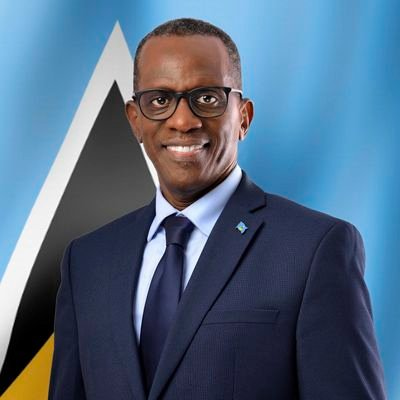 Castries, Saint Lucia: Philip J Pierre- The Prime Minister of Saint Lucia is leading the Saint Lucian delegation at the Canada-CARICOM Summit from Tuesday, October 17- Thursday, October 19, 2023, in Toronto.
This Summit is a noteworthy platform for addressing the regional challenges and obstacles and fostering inclusive growth.
Prime Minister Pierre further expressed his views as he expected the week of the CARICOM-CANADA Summit would further enhance the region's efforts to get the international community to honour their commitments towards guiding small island developing states to deal with the impact of climate change.
Key takeaways of the Summit will be:
The Canada-CARICOM Summit will include four key sessions, such as:
Access to Finance and Global Financial Architecture Reform within the multilateral space: Building on recent international dialogues.
Trade and Investment Roundtable: A private Level Roundtable will nurture discussions with Canadian business executives and investors to empower commercial relationships. It will help in promoting investment opportunities in sectors such as security, infrastructure and renewable energy.
Climate Resilience and Sustainable Economies: The Summit emphasizes the commitment to addressing climate change and crisis and promoting comprehensive growth through green economic transitions.
Building a Secure and Equitable Hemisphere, including Haiti: Leaders will occupy themselves on security challenges impacting the region's economic prosperity, stability and sustainable development.
In addition to the Summit, Prime Minister Pierre connected with potential investors and officials in London, England, at the Foreign Commonwealth Office. However, Prime Minister and Alva Baptiste- Minister for External Affairs, hosted a town hall meeting with the diaspora on October 14, 2023.
Prime Minister Pierre and Alva Baptiste, besides the Canada-CARICOM Summit, will hold another town hall meeting on Saturday, October 21, 2023 at St Elizabeth of Hungary Roman Catholic Church.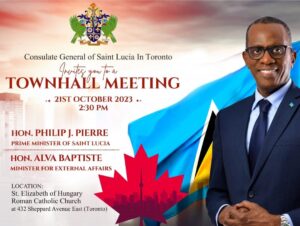 This assembly offers a unique opportunity for the Saint Lucian Community in Toronto and London to have meaningful and open discussions about their combined concerns, goals and aspirations.
The government of Saint Lucia values the standpoint of the Saint Lucian diaspora, and these meetings epitomize the government's commitment across the board.
Shawn Edward- Minister for Education, will take the lead as a Prime Minister until October 22, 2023, in the absence of Philip J Pierre.