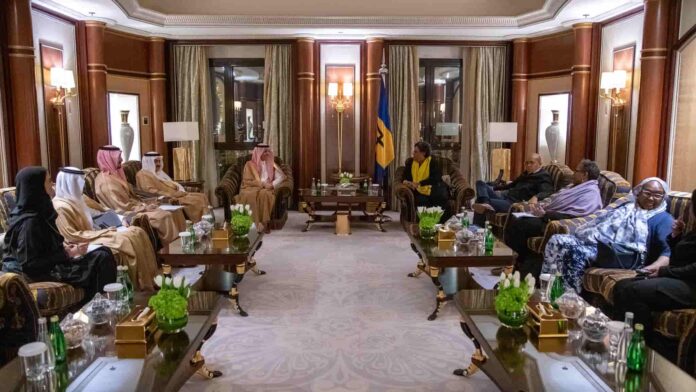 Mia Amor Mottley, the Prime Minister of Barbados, held talks with the Minister of Finance, Mohammed bin Abdullah Al-Jadaan and Khalid Al-Falih, the Minister of the Investment, prior to the Saudi Arabia- CARICOM summit.
PM Mottley received a cordial welcome from HRH Mohammed Bin Abdulrahman bin Abdulaziz, the deputy governor of Riyadh Region and the other officials at the King Khalid International Airport.
The PM joined hands with the heads of government and the secretary-general of the Caribbean Community in Riyadh for the first Saudi Arabia-CARICOM summit.
The first Saudi Arabia- CARICOM summit will held between Saudi Arabia and 15 countries that represent the CARICOM organization. This summit will held on Thursday, 16th November in Riyadh.
The heads of state, the presidents and the senior authorities of the member countries have already arrived in Riyadh to be a part of this discussion.
The Saudi Arabia- CARICOM summit is to play a huge role in fostering relationships with nationals across the Caribbean and Central and South America.
The Saudi Arabia-CARICOM summit will include discussions on various topics, including:
– Use technology, financial resources, and human resources to promote economic and social development among member states.
–         Agriculture and food security of the member countries.
–         World Expo 2030.
–         The measures to enhance the relations between CARICOM and the Cooperation Council for the Arab States of the Gulf.
–         Other topics include Tourism, Investment, Health, and Education.
The very cordial discussions between PM Mottley and the other ministers will not only strengthen the friendship between the region and Saudi Arabia but also help to foster the investment and trade sector by building a robust and resilient economy.
Prince Faisal bin Farhan, the foreign affairs minister of Saudi Arabia, has also shown his desire to build strong and friendly relations and cooperation with the member countries of CARICOM.
Prince Faisal also shed light on his commitment to achieving sustainable development goals by 2030 while addressing the 28th session of the Ministerial Council of the Association of Caribbean States in Guatemala.
The summit will be a crucial factor for the entire region in ensuring infrastructure development, providing better health facilities, creating more job opportunities for people, addressing climate change problems and forming environmental sustainability.
The summit is being conducted because of the financial support of His Royal Highness Prince Mohammed bin Salman, Crown Prince and the PM of the Kingdom of Saudi Arabia and the Chairman of CARICOM, Roosevelt Skerrit, the Prime Minister of Dominica.