Basseterre, St Kitts and Nevis: Prime Minister Dr Terrance Drew marked his presence at the first-ever Saudi-CARICOM Summit held in Riyadh on November 16, 2023.
PM Drew was received by the Deputy Governor of Riyadh Region, Prince Mohammed bin Abdulrahman bin Abdulaziz and several other officials at King Khalid International Airport.
This historic CARICOM-Saudi Arabia Summit is set to forge stronger ties in Trade, Investment and Diplomacy with the Region.
Notably, PM Drew will join fellow leaders from the Caribbean Community (CARICOM) in formal negotiations with Saudi Arabian delegates.
St Kitts and Nevis' diplomatic relations with Saudi Arabia
The primary focus of this summit, with respect to St Kitts and Nevis, is to enhance trade and investment, particularly in key sectors such as,
– Hospitality 
– Climate change
– Environment sustainability
– Infrastructure
– Energy 
Other than this, the summit will focus on reinforcing the united principles to facilitate increased one-on-one conversation and celebrate cultural heritage. It marks a significant step towards deepening ties between Saudi Arabia and CARICOM nations.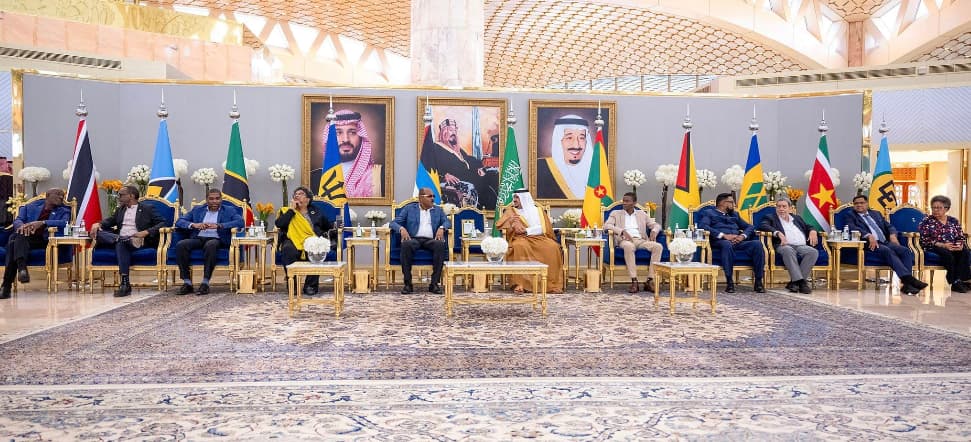 It is to be noted that PM Drew will lead an esteemed delegation, including Denzil Douglas, Minister of Foreign Affairs, and other key officials.
Notable members of the delegation include the Permanent Secretary in the Premier's Office of the Nevis Island Administration- Wakley Daniel, Permanent Secretary in the Prime Minister's Office- Naeemah Hazelle and H.E. Larry Vaughan- Ambassador to CARICOM for St Kitts and Nevis among others.
This noteworthy summit was a result of the recent courtesy visit of Abdulla bin Muhammad Alsaihani- Ambassador of the Kingdom of Saudi Arabia to St Kitts and Nevis. During his visit, he held a productive meeting with PM Drew and Denzil Douglas.
The importance of robust diplomatic relations and collaboration in addressing the global challenges and opportunities were the main highlights of the meeting, which included,
– Renewable energy
– Climate change
– Cultural exchanges
Notably, the Saudi government took the initiative to strengthen its ties with countries in the Caribbean and South and Central America. Both nations look forward to paving the way for their mutual growth, understanding and collaboration across various sectors.
The summit will be co-chaired by Prince Mohammed bin Salman bin Abdulaziz Al Saud and Roosevelt Skerrit, Prime Minister of Dominica.