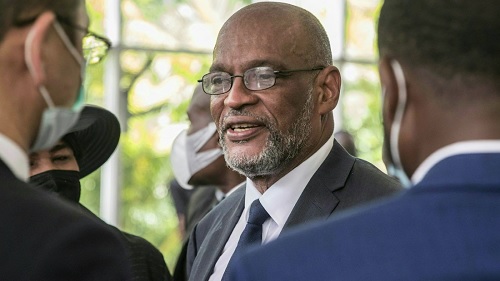 Prime Minister Ariel Henry is requesting the Organization of American States – (OAS) to assist the most impoverished island of the Caribbean region in tackling the uprising gang violence and crime.
Haitian Prime Minister wrote to OAS in a letter that the island is at present facing severe problems that generate transnational crimes, such as – organised crime, money laundering and illicit trafficking in firearms, ammunition and drugs.
PM Henry asked the organisation for its co-operation in the matter, adding, "My Government wishes, as soon as possible – to explore with the OAS the concretisation of the – aforementioned cooperation which will undoubtedly permit the re-establishment of a security climate essential for the return to the normal functioning of republican institutions".
Besides him, during the 51st General Assembly of the Organization of American States (OAS), the Dominican Republic and Costa Rica also called on OAS to provide immediate support to Haiti to tackle crime, saying that the island has reached a dramatic point.
Gang violence, abductions and murders are at their peak in Haiti. One of the Haitian gangs blocked the access to fuel which further led to a fuel shortage in the poor island, because of which several schools were shut, lives of hundreds of patients, including pregnant women, children, and COVID-19 patients, was at risk. Although, the gang leader said that he is temporary lifting the blockade.
The gang leader – "Jimmy", demanded the immediate resignation of the Prime Minister, adding that or he is ready to eliminate him at the cost of his blood.
The island needs the support of the international and national organisations, neighbouring countries and other states so that it can tackle the various issues such as – political instability, hunger crisis, poverty, gang violence, recovering from the destruction caused by the 7.2 magnitudes of the earthquake which destroyed more than 53,000 buildings, while taking lives of over 2,200 individuals.
The question is, why actually the world leaders are not coming forward to help Haiti?. The citizens are migrating to the United States with the hope to save their lives. Not only this, but the rising COVID-19 cases is also an obstacle in front of the Haitian government.