Basseterre: Prime Minister of Saint Kitts and Nevis, Dr Timothy Harris joined the International Monetary Fund (IMF) Caribbean Ministerial meeting with other CARICOM heads and Ministers of Finance to discuss the Caribbean region emerging more resilient post-pandemic.
The virtual meeting took place on Monday, October 18, which the central bank governors also attended under the theme of "overcoming the crisis, a stronger, more resilient Caribbean."
The meeting was headed by the Managing Director of IMF, Kristalina Georgieva, who also welcomed the special guests. During the discussions surrounding the financial system, Prime Minister Harris presented his address on 'Rebuilding Fiscal Buffers and Overcoming Unsustainable Debt.'
Highlighting the impact of COVID-19, Prime Minister Dr Timothy Harris said that individual country responses to the pandemic have led to depleted fiscal buffers and contraction of higher levels of debt is becoming unsustainable as a number of countries are growing under debt.
He further added that it is clear the capacity to build up buffers as very important as a first response protocol to some of the challenges that are being faced by countries. While speaking particularly for Saint Kitts and Nevis, PM said that the country has been able to respond initially to the pandemic by injecting two different stimulus packages to assist the population and to help the country to recover largely because at that time of the pandemic, the twin-island nation had very good and substantial buffers.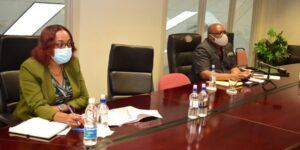 Prime Minister also proposed viable solutions that might help small nations to build their own fiscal buffers and economic resilience in both short and long-term plans.
He said that it is the prudent management of public resources, containing expenditure and others within their subregions is that the government have been talking about different legislative measures which ultimately helps to anchor expenditures within a certain magnitude in regards to growth. However, it is difficult for a small country like St Kitts and Nevis to garner those buffers in a speedy way.
Prime Minister emphasized that without the support of international partners, it is nearly impossible for small island countries to rebuild physical buffers and successfully attain sustainable depth.