Basseterre, St Kitts and Nevis: Prime Minister of the Federation, Dr Terrance Drew, felt elated while sharing an update regarding the laptop accepting ceremony on March 12, 2023. He stated that he is glad that one-to-one device program is gearing up and every student and children of the nation will soon have a device to compete in this 'super competitive' world.
According to the post by PM Drew, Deputy Prime Minister Dr Geoffrey Hanley participated in the ceremony on the behalf of the people and government of St Kitts and Nevis. The laptops were collected from the Resident Taiwan Ambassador Michael Lin.
The social media post by the Prime Minister stated, "Greetings, the Hon. Dr Geoffrey Hanley accepting laptops last Friday from Resident Taiwan Ambassador Michael Lin signals that the one -to -one device program is gearing up." He added that the students of the nation need access in order to compete in this world, and their parents' finances must not be an impediment.
The update regarding the same was also shared by the Deputy PM Geoffrey Hanley, who outlined that it is a proud moment for him. He stated, "A proud moment to celebrate our young people and the teaching and learning tools this SKNLP government is using to empower them!"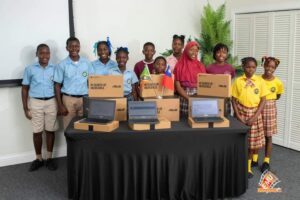 While expressing his pleasure towards the government and people of Republic of China (Taiwan), Deputy PM noted, "I am quite elated to be a part of this Laptop Handing over ceremony facilitated by the generous government of the Republic of China (Taiwanese) who has been one of our most faithful partners in the social advancement of our nation. We continue on the path of meeting our sustainable development goals and treasure the relationship with our Taiwanese friends."
Minister Hanley further anticipated that the St Kitts and Nevis' student attain quality knowledge through modern as well as valuable education tools. "Let's ensure our young people take advantage of these valuable educational tools," the post noted.
Prime Minister Terrance Drew-led administration has been working days and nights to make St Kitts and Nevis a preferable location for students and youngsters. Recently, Dr Drew, during a virtual interview, pledged to provide laptop devices and internet connectivity to each and every children of the nation, increasing access to education and knowledge.