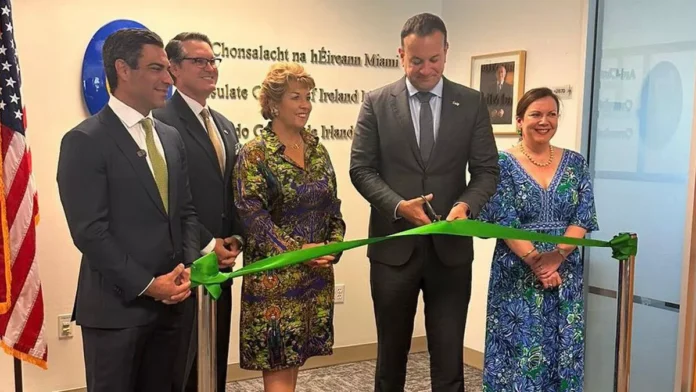 Ireland has made apparent its intentions to set up a new diplomatic office for the Caribbean in Miami. On Thursday, Taoiseach Leo Varadkar was in Miami for the opening of a new consulate which is meant to serve Florida, Alabama, Mississippi, Puerto Rico and the US Virgin Islands.
Taoiseach Leo Varadkar also stated that Ireland has made the decision to expand its diplomatic presence, the world over. Considering the fact that Florida is the third largest state in the Unites States, it made sense to expand the Irish presence there.
While he was in Miami, Taoiseach Leo Varadkar also met the secretary of state Cord Byrd and the Mayor of Miami, Francis Suarez. Suarez recently dropped out of the race for the Republican Party's Presidential Nomination.
The Irish Department of Foreign Affairs formulated a strategy for Latin America and the Caribbean last year, with the purpose of bettering connections in the region for better trade, education and cultural exchange.
In January, an office for Central America was opened as a part of the embassy in Mexico. A similar approach is planned for the office for the Caribbean, which is likely to be opened next to the new consulate in Miami.
Taoiseach Leo Varadkar also visited the Wolfsonian-FIU Museum in Miami which is set to host an exhibition on Celtic revival in Ireland at the end of the 19th and the early 20th century.
The Harry Clarke Geneva Window is said to be the center piece of the exhibition and by all means, is considered the jewel of the entire collection.
The window was first commissioned by the Irish Free States in the 1920s, for the Irish Office of the International Labour Organisation in Geneva.
The commission was later rejected by then president of the executive council, WT Cosgrave, on the grounds that it portrayed sexual innuendos and drunkenness. The window portrayed scenes from Irish literature and shows a partially clothed dancer.
Taoiseach Leo Varadkar spoke of his expectations from the efforts being made by Ireland to expand its diplomatic ties. He was quite optimistic that Ireland would benefit from the added reach, which would bring trade and educational opportunities for the citizens of Ireland. He also believes it would be of great benefit to the world and would allow Ireland to serve more people, not just in their own nation but around the world.