World: A news organization based in the Caribbean has recently published a report on the tweet of Hollywood celebs on the dispute of Indian Farmers.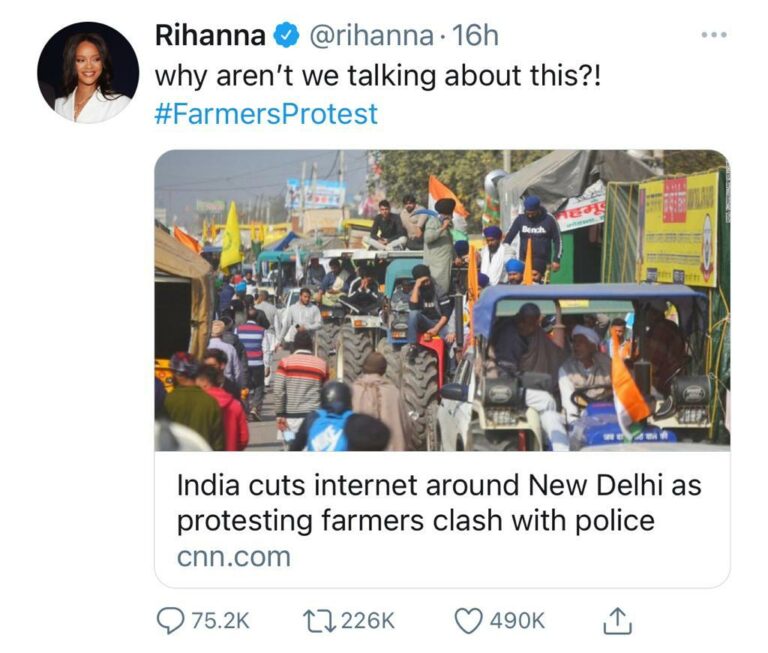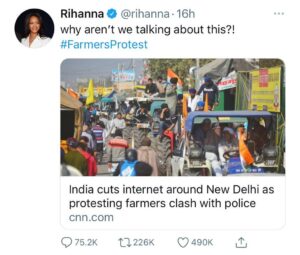 Popstar Rihanna's tweet, environmentalist Greta Thunberg and Actress Amanda Cerny on Indian Farmers ignited the flame of spirit in the population.
International influencers lambasted Delhi Police's act on the internet's shutdown and violation of Human Rights at New Delhi's borders as barbaric behavior of police against peaceful protesters. Now, the dispute of Indian farmers is not just a protest anymore, but it is the case of Human Rights Violation and a rising revolution.

People roused expressing their opinions on the violation of human rights after reading the tweet of Rihanna. Rihanna highlighted the issue of Indian Farmers that reached her 100 million-strong social media family. 
International pressure on the central government of India is a ray of hope for farmers. The shutdown of the internet, attacks on farmers, and many more have been a witness of violation of human rights.
Rather than listening to farmers' demands, the central government has been sleeping in their parliaments and acting on distractions like building a new parliament and others.
India is recognized as a free country, but the question is, is it free? Nobody is allowed to go on peaceful protest; everybody is obligated to the central administration's rules and regulations—the people who raise questions on the literary laws will be designated as terrorists.
Moreover, the FIR on the journalists over Republic Day violence is a threat to independent journalism and the rise of the nation's dark future. Government has no right to stop a journalist from doing his or her work. 
The truth is that administration is triggered by the righteous deeds of journalists who follow the path of truth and the ones supporting Indian farmers' protest. This act has no justification; it is just a measure to strangulation of democracy and truth.
On Instagram, Amanda Cerny stated, "The world is watching. You don't have to be Indian or Punjabi or South Asian to understand the issue. All you have to do is care about humanity. Always demand freedom of speech, freedom of the press, basic human and civil rights-equity and dignity for workers."
People have been reacting to the tweets and other social media with their fearless opinions. This is just the rise of hopes of firm farmers. Until now, farmers have stood independently for their rights, and Now the whole world is with them.