Grenada is one of the most beautiful and exciting places to visit. The island is such a place which is enriched with adventures, warm and friendly people and an untouched paradise to explore.
Grenada has various All-inclusive and luxurious resorts, one of them is True Blue Bay Resort.
This Resort is situated on the South Coast of Grenada. It is a five-minute drive from Maurice Bishop International Airport and a walking distance from St. George's University.
This all-inclusive True Blue Bay Resort is a sustainable, environment-friendly Resort which offers a lively and vibrant atmosphere.
This Resort offers various kinds of rooms, neatly arranged villas, and suites amidst a hillside.
Ambience of the Resort-
This Resort is surrounded by the beauty of nature, and it provides the luxury of an eco-friendly environment. They also conduct yoga sessions in the morning and the evening time in the open air to give relaxation to the people staying there in the climate-smart room. It also provides Caribbean music and a relaxed atmosphere.
Caribbean Boutique Rooms-
True Blue Villas- It is a two-story villa which offers:
Two bedrooms
Fully equipped Kitchen
Large veranda
A generous size of living area
Private pool
This villa is suitable for families with four kids, friends' group of five people, two couples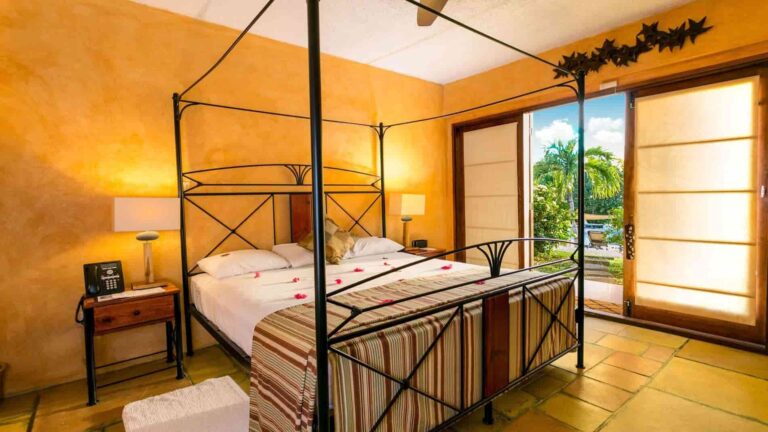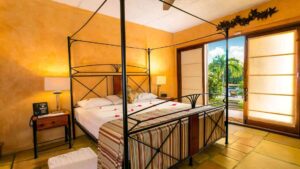 This villa is located within the Resort, through which one can enjoy the attractive view of the beaches.
Cocoa Pod Suites- It is a two-story suite which includes the facilities-
– A King-size bed
– Two bathrooms
– Living-dining area
– Private balconies on both the floors
– Pull-out couch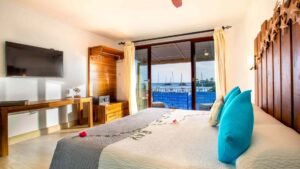 This suite is ideal for romantic couples, friend groups of up to 3 people and small families with 1 or 2 children in it.
This suite is in a private and sheltered area.
Water Front Suites- It is a two-story suite which offers the amenities-
Dining area
Studio couch bathroom
Queen-size bed
Private balconies on both floors
Cosy living space
Kitchenette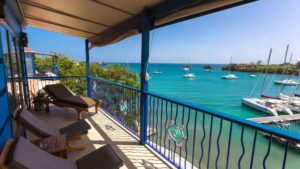 This suite is perfectly suitable for couples looking for a romantic retreat, small families with one or two kids and up to 3 adults.
This suite is close to the Bayview pool and the reception area. It is so beautifully designed that it offers beautiful sights of the ocean.
About the Staff-
The staff of the Resort is very charming and professional. They assist their visitors with a smile on their faces and a very helpful and positive attitude.
Special offer by the Resort-
Seven nights at the True-Blue Bay Resort, which includes the following facilities:-
– 2 adults in a True-Blue Room on Bed & Breakfast
– Flight facility from London Gatwick with British Airways
– It is based on the departure of 18th September 2024
The most popular facilities of the Resort include:
Airport Shuttle
Restaurant
Free Parking
Bar
Very good breakfast
Tea/coffee maker in all the rooms
Swimming pools
Spa and wellness centre
Room service
Yoga Studio
Restaurant facilities:
Dodgy Dock Restaurant and Bar
This restaurant offers the unique and tasty flavours of Grenada and the Caribbean region. This restaurant is absolutely the perfect spot to enjoy the beautiful views of the surroundings and the friendly service of the waiters.
The Rum Shop Bar
This shop is next to the beach pool, and it offers perfect mixed cocktails to its customers. Its beautiful bamboo tropical designs provide the perfect ambience to its visitors.
House of Chocolate Bakery
This bakery house is right at the entrance of the Resort. This house offers all its visitors delicious chocolate treats, which include brownies, milkshakes, cupcakes, coffees, cheesecakes and ice creams.
All in all, the Resort offers various amenities for all its visitors, and it provides one of the friendliest and most vivacious environments to all.