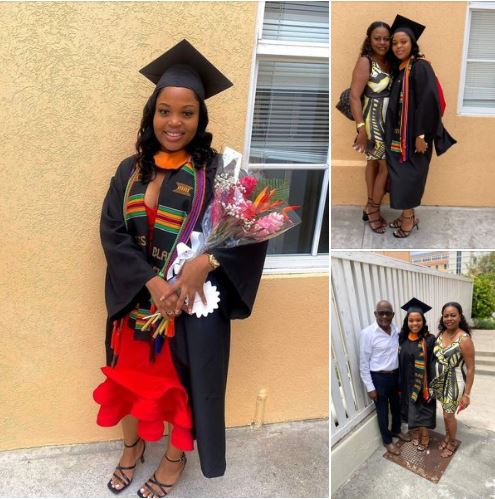 St George's, Grenada: Philip Telesford, Minister for Social Community, Development, Housing and Gender Affairs, recently took a moment to congratulate Britnie James for graduating from the University of St George's.
"Today we celebrate Excellence. Recently, Britnie James graduated with a Bachelor's Degree in Nursing with Honors from St George's University," the minister stated through his official social media account.
Britnie is the daughter of Lystra James, Office Manager/Executive Secretary attached to the Parliamentary Office for the constituency of St George South East.
Further, Minister for Social Community Telesford shares some advices with the new nurse. "Britnie, we are proud of you, and I will offer you some advice as you begin your career as a nurse," he noted.
The advises shared by the minister are as follows:
1. Continuously seek to learn and improve: Nursing is a constantly evolving field, and it is essential to stay up-to-date with the latest research as well as best practices. Seek out opportunities for continuing education and professional development.
2. Build strong relationships with colleagues: Nursing is a team-based profession, and you will need to work closely with other healthcare professionals. Invest time in building strong relationships with your colleagues, and be willing to collaborate and communicate effectively.
3. Practice self-care: Nursing can be a demanding and emotionally challenging field. It is important to take care of your physical, emotional, and mental health so that you can provide the best care possible to your patients.
4. Be an advocate for your patients: As a nurse, you will be the primary caregiver for your patients. It is important to be their advocate, ensuring they are receiving the best possible care and advocating for their needs and preferences.
5. Embrace technology: Healthcare technology is rapidly advancing, and it can greatly enhance the care you provide to your patients. Embrace new technologies and be willing to learn how to use them effectively.
While concluding the post, he mentioned, "Congratulations to her parents, Lystra James and Jim Baptiste, on raising such a wonderful soul. Best of luck to you, Britnie, our constituency commends you for your great achievement."