Trinidad and Tobago: PNM, The People's National Movement lambasted the Express headline and stated it as 100% wrong, reckless and irresponsible.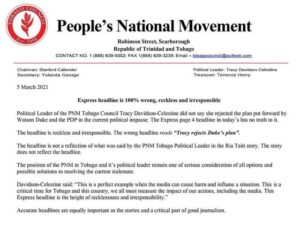 The media act as a bridge between people and the government, and if it doesn't work accurately, it holds the potential to deteriorate anybody's image.
Recently, Trinidad and Tobago are undergoing opposition, and current government disputes and media are doing their work accordingly.
In the rat-cat fight, media has the power to ignite the flame or just leave it where it is. This time reputed Express's headline conveyed a wrong message which is totally unprofessional.
Political Leader of the PNM Tobago Council Tracy Davidson-Celestine did not say she rejected the plan put forward by Watson Duke and the PDP in the current political impasse. 
PNM stated, The Express page 4 headline in today's has no truth to it. The headline is reckless and irresponsible. The wrong headline reads, "Tracy rejects Duke's plan." The headline is not a reflection of what was said by the PNM Tobago Political Leader in the Ria Taitt story. The story does not reflect the headline.
"The position of the PNM in Tobago and its political leader remain one of serious consideration of all options and possible solutions to resolving the current stalemate," PNM added.
Davidson-Celestine said: "This is a perfect example when the media can cause harm and inflame a situation. This is a critical time for Tobago and this country; we all must measure the impact of our actions, including the media. This Express headline is the height of recklessness and irresponsibility."
Accurate headlines are equally important as the stories and a critical part of good journalism. PNM exposed the Express and proved that they have no fear to express the truth to the citizens of Trinidad and Tobago. 
People who have accused PNM of choosing politics over people are totally wrong. As they always go for truth, and citizens need truth more than politics.