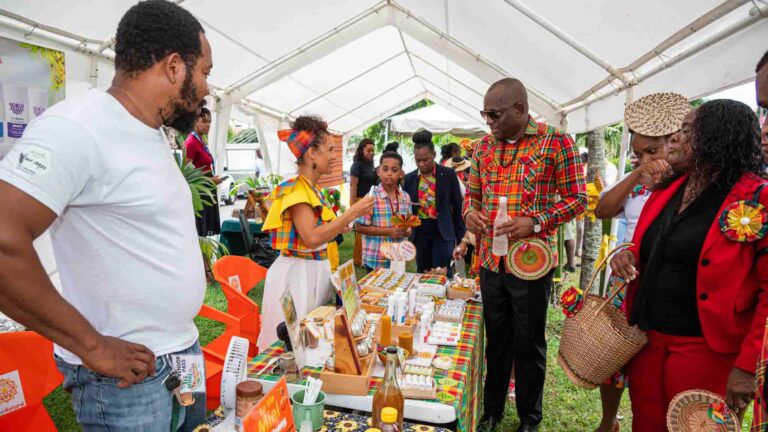 Dominica marked the three-day celebration of Ti Vilaj Kweyol at Botanic Gardens in the capital city, Roseau, from 11:00 a.m. to 8:00 pm. This event was started on Tuesday, 24th October 2023 and celebrated till 26th October 2023.
This event was organised by Government of Dominica to provide a wonderful opportunity to all the local inhabitants to showcase their locally produced products and to celebrate their rich cultural heritage and traditions.
The three-day event complemented the upcoming World Creole Music Festival with the assistance of certain private and public stakeholders. The staging of the event showcased the local talents and artistic skills of the performers.
The motive behind this event was to generate a chance for small entrepreneurs to display their talent and creativity. Also, to create such a vibrant environment which is filled with dance, food and beverage products, music, art, agriculture, fashion and cultural traditions.
Glimpses of the event
The celebrations were held for three days based on a different themes, food and performances such as,
24th October, 2023
The Theme on this day was Youth Explosion
The Meat of the Day was Titiri / Fish
Cocktail of the Daywas Ti Kawat
Artists performed at the event were:
Signal Band
Reo
Xplosive Band
D Rush
DJ Remz
Kalinago Dancers
NCCU Kids in Culture
Umojha Chs
Paix Bouche Cultural Group
Castle Bruce Primary School
Ignition Band
DJ Drixx
Castle Bruce Primary School
Pashiwok Dancers
25th October,2023
– The Theme on this day was Fashion, Art, Poetry
– The Meat of the Day was Crab
– Cocktail of the Day was Kabwet
Artists performed at the event were:
TK International
Extasy
Colton T
Fya Bryte
DJ Snow
YSM Drummers
Flamboyant Dancers
Paix Bouche Drummers
Inner Core Unit
Simba Orkestra
Sisserou Singers
Waitukubuli Dance Theatre Company
Unstoppable DJs
DJ Epic
Capuchin Cultural Group
26th October, 2023
The Theme on this Day was Carnival in the Creole Village
The Meat of the Day was Pork
The Cocktail of the Day was Parenn Collin
Artists performed at the event were:
Asa Bantan
Ridge & Pudaz
First Serenade
Riddim Knockaz
DJ Shil
Gutter Lapo Kabit
Sakis Lapo Kabwit
Swinging Stars & Calypsonians
DJ Taffy, Quan & Gwada G
Zone Rouge
Patriotic Dancers
Sugar Fire Lapo Kabwit
Erwinchy
Melboom
Selechtah Urban
Mahaut Bouyon Lapo Kabwit
Entrance charges
The daily entrance fee amounted to $ 10
Children with Uniform and 12 years old were given the perk of free entry.
The price for the Special Venue drops off by $20.
Prime Minister Dr Roosevelt Skerrit and Melissa Skerrit- Parliamentary Representatives, also attended the event and encouraged the local business owners for their products.