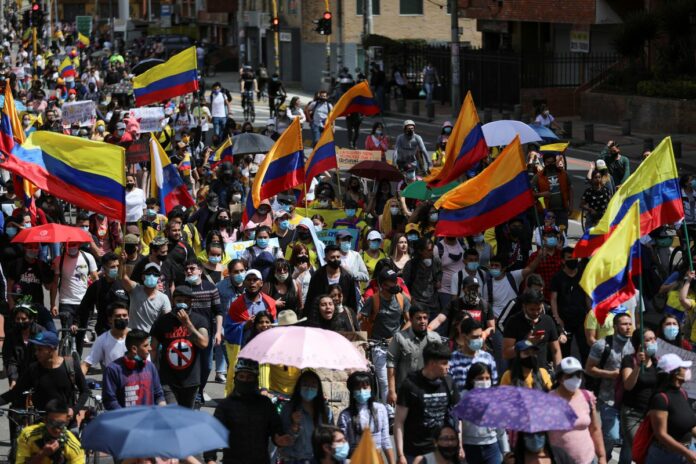 World: The reported death toll from nearly two weeks of protests against the Colombian government rose by forty on Tuesday, a day before a planned national strike, while significant cities warned of a prolonged high in COVID-19 cases due to protests.
Violent protests fueled by outrage over a tax plan that has now been cancelled began on 28 April. The demands of protesters have expanded with a basic income, an end to police violence, and a long-debated health reform withdrawal.
Smaller protests and roadblocks continued daily across the country. On Wednesday, trade unions and student groups called for a national strike after a meeting with President Ivan Duque left them in conflict with the government. Read More
In Colombia, the human rights ombudsman said he had received reports of the deaths of 41 civilians and one police officer. This is to verify whether it is directly related to the protests.
Police and his Esmad riot group are thought to be responsible for 11 murders, the Ombudsman said earlier, while it regarded seven deaths as non-related to the marches.
"We call for all necessary measures to be taken to put an end to the violence that is causing Colombia to flourish," the Ombudsman's office said on Twitter.
Local advocate group Temblores says 40 protesters were killed by police after the shooting, while Human Rights Watch said it had received 46 credible reports of protests and 13 had been confirmed. Read More
So far, three police officers are on trial on murder charges related to the deaths of protesters.
Duque visited the city of Cali – a hotspot for protests – on Tuesday for the second day in a row, announcing that poor and working-class students at public universities and technical schools will not pay tuition fees next semester.
The centre-right president did not have strong support in Congress, where his tax proposal, which was subject to sales tax, would be expanded. His term ends in August next year.
Local authorities said the three largest cities in Colombia, which recorded nearly 79,000 COVID-19 deaths, now have an extensive third peak in coronavirus cases and intensive care units.
The capital Bogota faces a 'hospital collapse', Mayor Claudia Lopez said at a press conference on Monday and will not see infections decrease this week as previously predicted.
A drop in infections will only come at the end of May, Lopez said, adding that protests make quarantine restrictions almost unenforceable. However, she is expanding a curfew rule and a regulation on alcohol sales.
Medellin, whose ICUs have been nearly complete for weeks, is preparing for a possible crisis, Health Secretary Andree Uribe told Reuters in a video.
"We know there will be an increase in cases; we are ready to be ready, we are carrying out actions for early identification, such as testing everyone who took part in the marches," she said.
In Cali, protests are likely to expand to a current high, Health Secretary Miyerlandi Torres said.
"We are concerned about marchers not complying with any of the self-protection protocols, such as physical distance and the use of face masks," she said. "And with the presence of tribes like the British, which is highly contagious, it is indicated that the numbers will not fall in the short term."
According to local government figures, Cali's ICUs are about 95% occupied.