Castries, Saint Lucia: Calabash Cove is one of the eye-catching resorts which showcase the beauty of Saint Lucia. The first thing that welcomes travellers is the awe-inspiring view of the Caribbean, which is designed to defrost all the stress and make your holiday mood even better.
Saint Lucia is known as a Honeymoon Destination and is also famous among travel enthusiasts. The island has numerous numbers of Villas, Resorts, Hotels, Beaches and whatnot!
The reflective floor tiles, as the blue layers upon blue, are able to attract anybody's attention to the turquoise sea and sky. The majestic area of reception, the glowing sunset and the cooled sea breezes are some of its magnificent features.
Calabash Cove- Resort and Spa
Calabash Cove, St Lucia, is pinpoint on the island of the northwest Caribbean coastline overlooking Bonaire Bay. It is famous for its best beaches on the island, clean & calm water and boasting sandy covers.
The resort facilitated its customers for both 'All-inclusive' and 'Breakfast-only packages'. Since it is adult-only, the resort is absolutely perfect for couples who are looking for a well-earned time for themselves.
The resort never feels occupied or crowded as this is a boutique property with 26 capacious cottages and suites. It featured lush gardens across the Manor House and waterfront cottages, a calm atmosphere, fragrance and colour and a pool and beaches for relaxing.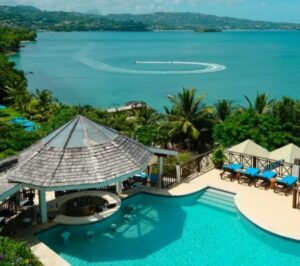 Amenities: Calabash Cove
Infinity pool
Ti- Spa
The whispers
Dining
Cove Gardens
Secluded Beach
Complimentary activities
Fitness centre
Lobby
The resort includes a good number of private cottages like-
Water's Edge Cottage
 Water's Edge Cottage is a luxurious experience one can have. This is really as close as one could get to the water's edge without coming to the beach. This Balinese-style wooden cottage is attached on one side to a similar cottage. It is a private cottage where nobody else is buzzing like an insect into someone's privacy.
Amenities 
 Private Plunge Pool
Super- Size Jacuzzi tub
Hammock Day Bed
 4 Poster King Size Bed
Private Patio
Teak table & chairs
Telephone
TV
Complimentary Wi-Fi
Living room suite
Swim-up Jr. Suite private pool access
Calabash Cove consists of four swim-up junior suites occupied with their own Jacuzzis. The swim-up suites are a few steps away from the infinity edge pool, where one will be able to dip in and out of the crystal clear and clean water. It serves the in-pool bar with its signature cocktails during the happy time.
Amenities 
Large flat-screen TV
Day Beds
AC
Teak table and chairs
Poolside patio
Indoor rain shower
Wi-Fi
King size bed
Oversized jacuzzi
Living suite
Full bar
Access to the infinity pool
Sunset Ocean View
The Sunset Ocean View Junior Suites of the Calabash Cove is simply the perfect option for a Caribbean all-inclusive vacation. Junior suites showcase the view of all 13 luxury oceans, the Caribbean Sea in the daytime and beautiful sunset at dusk. It is located on the lower mezzanine of the Manor House, exactly above the infinity pool.
Amenities
King size bed
Living suites
Private patio
Access to the infinity pool
Oversized jacuzzi tub
Full bar
Indoor rain shower
Large flat-screen TV
AC & ceiling fan
Teak table & chairs
Complimentary Wi-Fi
Day bed
C-Bar at Calabash Cove:
C-Bar is specially designed to treat its guests, a great spot to enjoy cocktails. It has picturesque views of the sea from the comfort of couches.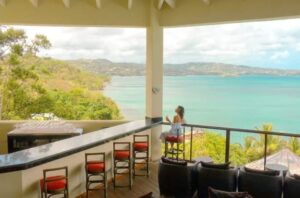 C-Bar also looks out for an infinity pool to relax in style with a signature cocktail in hand. It offers plenty of wine options from the Calabash Cove Cellars. The resort also has seasonally changed beer options.