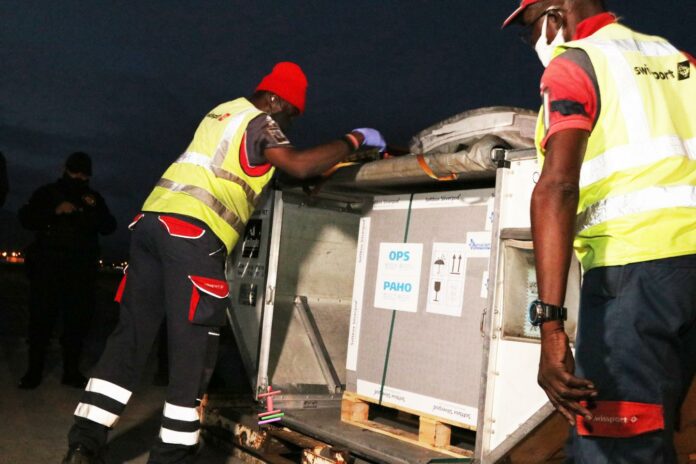 Trinidad and Tobago: 16,000 additional Oxford Astra-Zeneca vaccines arrived in Trinidad and Tobago on Thursday afternoon. Minister of Foreign and CARICOM Affairs, Dr Amery Browne, said that the vaccines were donated by St Vincent and the Grenadines. He also announced that Bermuda has also pledged a supply of vaccines to the country.
Speaking at the post-cabinet meeting, Minister Browne said that St Vincent and the Grenadines, Prime Minister Ralph Gonsalves has given 16,000 vaccines to Trinidad and Tobago. "These vaccines will expire at the end of June and the Ministry of Health indicated that they would have sufficient time to ensure that they are fully and properly utilised for the benefit of the people of Trinidad and Tobago."
Foreign Minister also ensured that there would be no wastage of the vaccines and most of them would be used. "We do not anticipate the wastage of a single vial."
He also announced that there would be a donation of another batch of 8000 Astrazeneca vaccines from Bermuda to Trinidad and Tobago. He also added that the government is diligently working to make sure that the country and other member states of the CARICOM receives some of the 80 million doses pledged by US President Joe Biden.
Earlier, Trinidad and Tobago had received donations from India, China and Barbados. It is noteworthy, Trinidad and Tobago is undergoing a major crisis of COVID-19, which has claimed 10 deaths in past 24 hours. The country has also reported over 300 cases of COVID-19 and is currently undergoing a severe state of emergency to curb the virus.
However, the opposition is currently targeting the government over its management of the COVID-19 as TT is among the countries which have been severely affected by Coronavirus. In contrast, Prime Minister Dr Keith Rowley has said that the government is making all efforts to safeguard the population against the global pandemic.