Saint John, Antigua and Barbuda: Jose Humphreys- the President of Antigua and Barbuda Red Cross Society, initialised its NS's Emergency Operations Centre (EOC) amidst news of the forthcoming storm.
Several volunteers will be transmitted and equipped to the various centres over the region while reporting and receiving support from the EOC team. The EOC team will monitor the situation from its headquarters on Old Parham Road.
The Emergency Operations Centre's team, with the support of the Antigua and Barbuda Fire Brigade, will closely monitor the storm in actual time and offer its progressing support and help as and when the need arises.
The ABRCS, the National Office of Disaster Services and other lead agencies have also joined forces to minimise the impact and recovery after the speculated disaster.
All the ABRCS Disaster Response workforce is ready in its entirety with general disaster response equipment and a well-trained emergency medical and disaster response team.
The President of ABRCS urged all residents to take necessary precautions and preparatory steps to alleviate risks and protect life and property. The team is all set to reach any time before, during and after the storm.
The ABRCS Society Barbuda Branch gave assistance to the NODS Coordinator with Shelter preparations.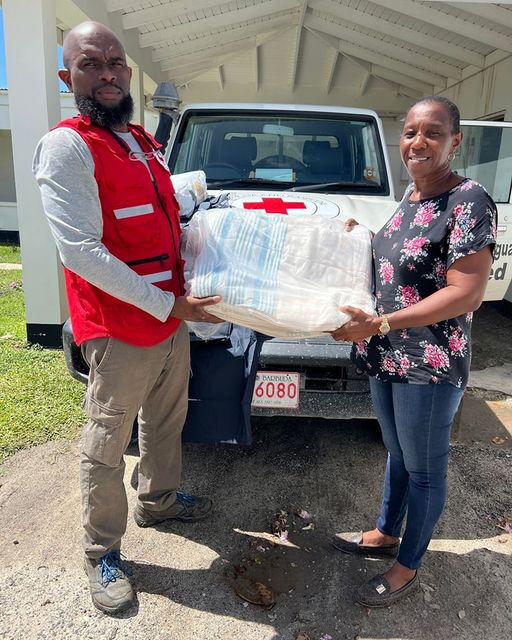 Hurricane Tammy Update
At 11 pm, Hurricane Tammy was still located in west-northwestward; however, the anticipated turn has not yet occurred. The official track forecast has been fetched slightly to the west of the previous one.
At 2 a.m., The Centre of Hurricane Tammy passed- Northeast of Martinique; however, during the early hours of Saturday, the condition is expected across the Leeward Islands.
Tropical storm conditions are possible within the tropical storm area, which can begin this night. The rainfall that Tammy is expected to produce is described as follows.
Leeward Islands: 4-8 inches with maximum amounts of 12 inches.
Portions of the Windward Islands: 2-4 inches with maximum amounts reaching up to 6 inches.
British and U.S Virgin Islands into eastern Puerto Rico: 1-2 inches with maximum amounts of 4 inches.
These rains can lead to urban flooding and isolated flash with isolated mudslides in areas of higher terrain.
Surf: Swells caused by Tammy will continue to affect the portions of the Lesser Antilles for the next few days. These are likely to rip current conditions and cause life-threatening surf.