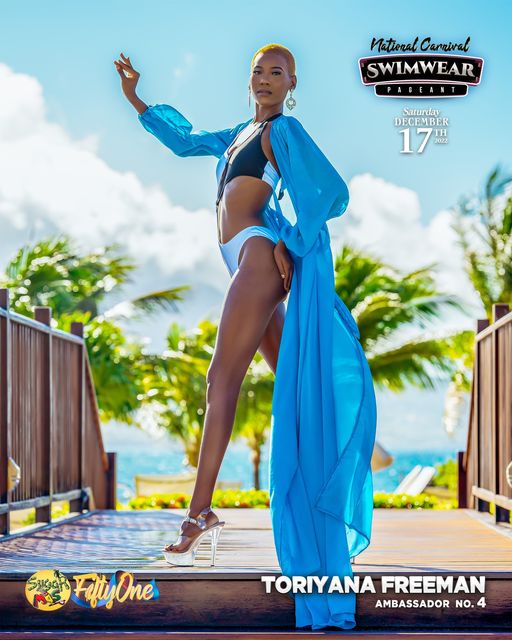 St Kitts and Nevis: St Kitts National Carnival has introduced the list of contestants of the National Carnival Swimwear Competition on December 5, 2022.
The introduction of Toriyana Freeman informed that she is 20-year-old and was born on May 29th, 2002 and raised in the beautiful community of St. Paul's. During her adolescent years at the Charles E. Mills Secondary School, Toriyana immersed herself in the practical subject of Physical Education. She believes that Physical Education helps to create a balance between our health and our mental stability. Her love for Physical Education was cemented when she was enlisted as a member of the Charles E. Mills Secondary School Cheerleading Squad, where her performance was outstanding and contributed to the placement of her team in top positions on numerous occasions.
Toriyana is a "certified reader and music lover", enjoys various forms of entertainment and is keen on modelling and youth development hence her reason for joining SKN Unchained in 2022. The company not only provides a platform to learn and enhance her modelling skills but one that has given her many opportunities thus far to emerge from her very reserved personality to discover her full potential.
Citing both of her parents as her role models, Toriyana describes her relationship with them as an unbreakable, trustworthy and lovable bond. She sees her mom as a wise, hard-working woman who sacrifices her very last for her children. Her father's characteristics are unmatched. She strongly believes in FAMILY. She constantly elaborates on the idea that the family is the first place where children experience interpersonal connections that will have an effect on them for the rest of their lives. Toriyana believes that the absence or presence of a family structure plays a significant role in the evolution of an individual and their fundamental habits and traits.
Her recent interaction with the reigning 2021 National Carnival Queen, Nekirah Nicholls, reminds her of someone who is full of light and determined no matter the circumstances. As she aspires to be like Nicholls, this has strengthened her belief even more in her favourite quote "They counted me out, they didn't think I will make it this far, they didn't believe in me, but God did."
To Toriyana, partaking in the National Swimwear pageant is the realization of a life-long dream and an opportunity to be an ambassador for her country. She aims to use this opportunity to empower others to find the inner strength to uncover their full potential, showcase their talents and use them in positive ways that will impact others.