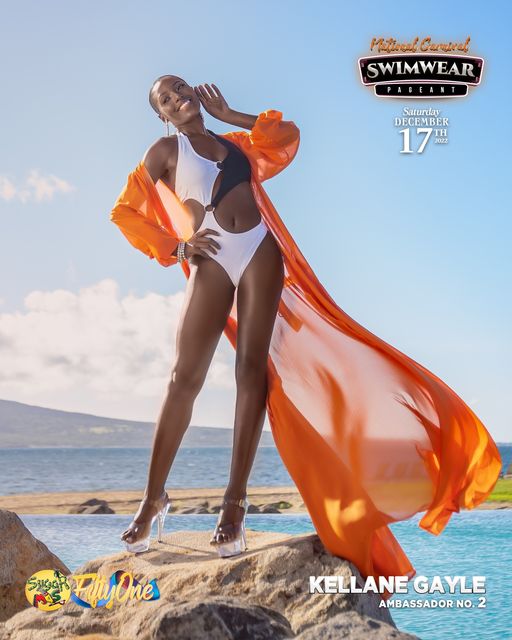 St Kitts and Nevis: St Kitts National Carnival has introduced the list of contestants of the National Carnival Swimwear Competition on December 5, 2022.
National Carnival introduced the third contestant and said that she was born under the prominent heritage of black, green and gold, Kellane Gayle is an embodiment of strength, creativity and grace. Being the youngest of three and the only daughter, it is safe to say this is where she obtained her very first crown. Make no mistake, as this has aided her in honing her resilient nature today.
Upon migration at the age of 11 years old, Kellane rooted her academic journey at Basseterre High School, where she was successful in attaining seven CXC subject passes; it was not before long until she added an additional two to the tally. After completing her secondary studies, Kellane set her sights on obtaining an associate degree in Architectural Design at Clarence Fitzroy Bryant College.
Despite her demurely disposition, Kellane is a firm believer in "doing for others is doing for Christ", providing service to others in need. She has served as a two-time president of the Red Cross Club at her prior academic institution and a member of the NEMA SERT and BHS Interact Club.
It was also during these years she developed an interest in modelling and joined the Movado Modelling Agency, where she has been under the pedagogy of Jason Amory for over five years, gracing different stages and gaining many opportunities, which include walking in the 2018 Anguilla Fashion Expo and dominating the stage of the renowned Carambola White Sands Swimsuit Competition as their latest reigning title holder.
In her downtime, Kellane enjoys learning new design skills and experimenting with plant-based recipes. She is a lover of nature, finding time for adventurous hikes and having lazy days at the beach while paddling on shore and watching the sunset. Kellane truly takes advantage of opportunities to live life to its fullest.