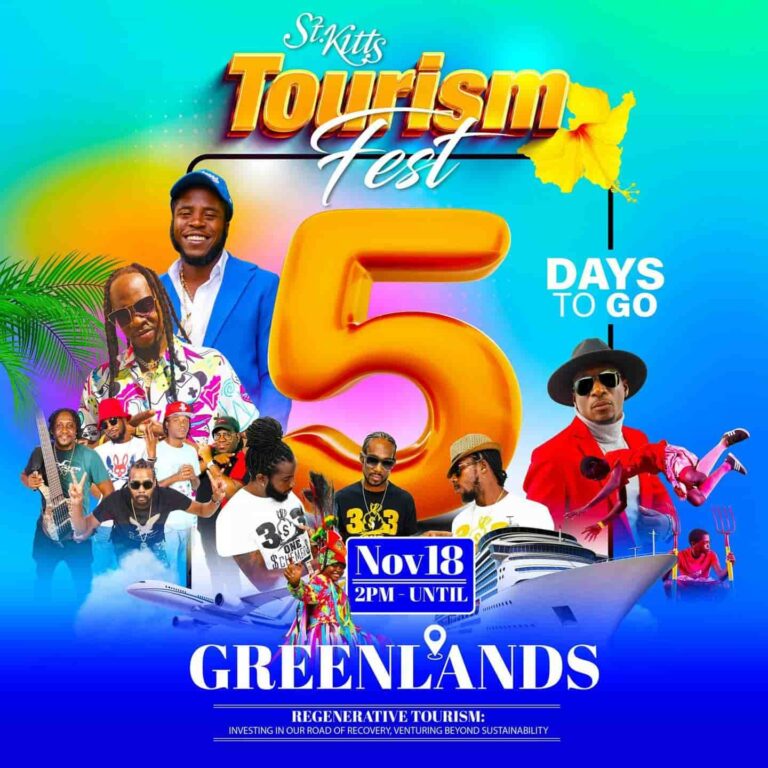 St Kitts and Nevis: The Tourism Fest is going to be held on Saturday, 18 November 2023, in Greenlands Pasture, St Kitts and Nevis. The event is a pre-event of Sugar Mas 52 aka St Kitts and Nevis National Carnival, 2023-2024.
The annual carnival will commence from Friday, 15 December 2023, to Tuesday, 2 January 2024. The national fete is organised by the St Kitts and Nevis National Carnival Committee (SKNNCC).
The Tourism Fest will start at noon, 2:00 p.m. and will continue to be celebrated till the night hits 8:00 p.m. Talented entertainers of the nation, such as the Grandmasters Band and the Sugar Band International, will rock the stage with their performances.
The eve will continue with the festivities at the annual grand countryside party. The celebrations will include the "Scorpion King Birthday Bash" in Saddlers Village.
DJ Caldo, Hellfire International, Xtorion Sound, Real Right Entertainment, DeJour and many other artists will also entertain the visitors. Grandmasters Band and Sugar Band International will commence their performances at 9:00 p.m.
Recently, the singer and member of Grandmasters Band – Rucas Pemberton, has announced their all-new song "HAPPY". The song was officially announced with Sugarbowl on the radio station Freedom FM 106.5 FM.
All entertainers and artists in St Kitts and Nevis aspired to compete in the road march to prepare for the upcoming Sugar Mas Carnival. The audience's anticipation and excitement have increased gradually after the release of their road march contender.
According to the norms, they must release their songs on at least two radio stations by Friday, 17 November 2023.
Expressing his views on the newly released song "Happy", singer Rucas shared that the new single is a hybrid product of collaboration, creativity and inclusiveness. It is a collective creation of popular artists DeJour, Cory Masablue Tyson, Riddim Master, Davis House and Rucas himself.
The celebrations for the carnival are in full swing as fans are deliberately expressing their excitement. Fans are offering greetings and showing their support to the Grandmasters Band, who has secured back-to-back positions in the Sugar Mas Carnival Road march Championship.
Sugar Mas 52 will also conduct a Slogan Contest and citizens are requested to submit entries at info@skncarnival.com. Criteria for the submission is based on:
Creativity
Catchy lines
Syllables – not longer than ten (10)
The winner of the contest will be awarded with cash prize of EC$500.00 .