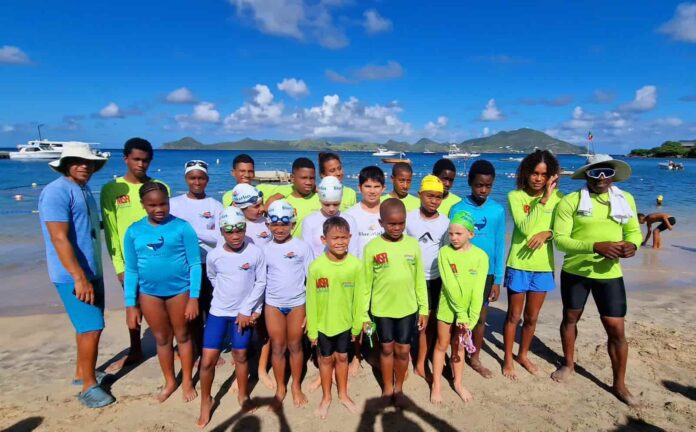 Basseterre, St Kitts and Nevis: St Kitts and Nevis Aquatic Federation has announced the team that will represent the Federation at the 31st OECS Swimming Championship. The event will take place from November 10-12, 2023, in Saint Lucia.
As per the information shared by the concerned Federation, "A Team of 20 swimmers will face each other in the forthcoming Swimming Championship in Saint Lucia after competing in the Swim Fest, which was held on November 4, 2023, at Qualie Beach in Nevis."
From both islands, five swim clubs registered 95 swimmers for the Swim Fest, competed for the Most Magnificent Club Trophy for the races in various categories involving,
Butterfly swimming
Breaststroke swimming
Freestyle swimming
Backstroke swimming
A twenty-one-member team has been named under six age categories, which will include males and females such as,
Girls 8 and Under
Donissa Wilkenson
Edith Denne
Boys 8 and under
Gaj Leonce
George Beasley
Teadrian Tross
Clijae Christmas
Girls 9-10
Marlie Mc Daniel
Rylea Lewis
Boys 9-10
Valentino Esposito
Saulo Sahely
Nahum Polius
Greyson Burrell
The categories for ages more than ten years old are as follows,
Girls 11-12
Jazzelle Connor
Skyla Connor
Boys 11-12
Aunri Pemberton
Nazanu Chiverton
Justin Williams
Austin Williams
Boys 13-14
Troy Nisbet
Girls 18 and over
Jennifer Harding- Marlin
The swimmers are chosen from the Blue Marlin Swim Academy of St Kitts, and for the championship, participants are supposed to reach the Rodney Height Aquatic Centre (RHAC), Gros Islet, Saint Lucia.
Saint Lucia Aquatics Federation (SLAF) organised this 31st OECS swimming championship.
The nation is eager to look forward to the winning team as swimmers from the National Swim Team who will be participating in the 10th Peninsula Swim by next week on November 19, 2023, from White House Bay to Shipwreck.
It is to be noted that the people of the island state have expressed their sentiments and best wishes to the teams and the coaches for the upcoming event.
One of them took it to their social media handle to express that, "It is so amazing and proud to see how far these children have come, and the dedication, commitment and determination they have shown throughout their training is incredible."