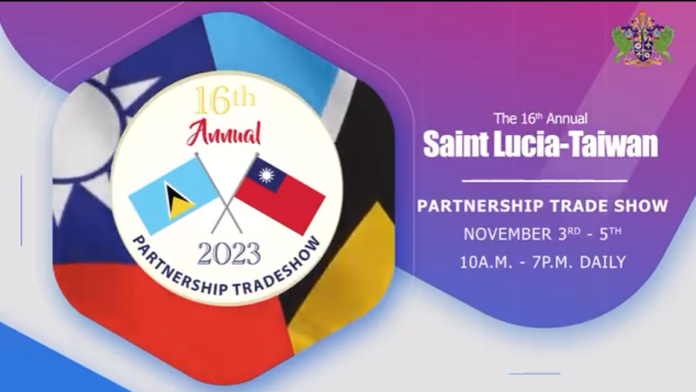 Castries, Saint Lucia: Saint Lucia is going to host the 16th annual Saint Lucia- Taiwan Partnership Trade Show from November 3-5, 2023, at The Pavilion on the Ramp in Rodney Bay.
The event will be held under the theme, "Sustaining Trade in the Digital Age."
The Taiwan External Trade Development Council (TAITRA), entrusted by the Ministry of Foreign Affairs of Taiwan, announced the participation of 16 Taiwanese organizations in the Taiwan-Saint Lucia Partnership Trade Show 2023.
A free shuttle bus will be arranged every day from the Baywalk Mall to the venue.
Display of products in the event
The Taiwanese canopy will display an extensive arrangement of products customized for the Saint Lucian industries, such as,
Solar LED energy story instrument
Organic teabags
Water purification equipment and filters
Modifiable waist straighteners
Longan
Red date tea
In the happening event, the Taiwanese companies will be supposed to join 70 local booths to showcase their products, and there is an arrangement of some exciting, fun activities which will be continued throughout the trade show, for instance
– Karaoke
– Fashion Show
– Bouncing Castle
– Face Painting
– Chef Orlando Cooking Show and many more
The Taiwan External Trade Development Council will honour the Taiwan Excellence Award winners who have represented their high-quality, innovative products, which will be imported from Taiwan, including a live streaming arm, a night vision recorder, laptops, tablets, a network camera, conferencing cameras and a lot more.
These products are supported by Taiwan as they all are made up of world-famous Taiwanese brands such as,
Transcend
D-Link
Asus
Acer
AverMedia
TAITRA will make the way clear for the opportunities for collaboration and mutual exchange between the Saint Lucian and Taiwanese industries throughout the three-day event.
The event will not only facilitate strong trade ties between the countries and also for the other Caribbean and Central American countries but will also offer local enterprises the special opportunity to meet and talk about business cooperation with Taiwanese delegates.
The trade relations between Taiwan and Saint Lucia have been growing to a great extent in recent years. Notably, the Ministry of Finance of Taiwan acknowledged that the trade volume between Taiwan and Saint Lucia was US $658,000.00 in 2022.
Taiwan's imports from Saint Lucia are listed to total US $355,000.00, while its exports to Saint Lucia run to US $303,000.00.