New reports are coming up about the Guyana Dormitory Tragedy where 19 students were burned to death. A teenage student is suspected of committing arson after her phone was confiscated by the school authorities.
National Security Adviser Gerald Gouveia said that the suspect's mobile phone was taken away to discipline her from having a relationship with an older man. The girl, anguished by this set the dormitory on fire, killing 19 students including a five-year-old boy.
He said the warden of the dormitory was also asleep in the building, however, she panicked and could not find the right keys to unlock but she still made it out.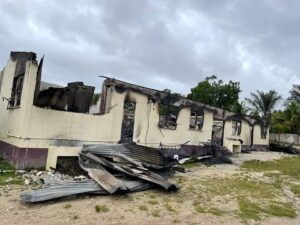 Some unnamed police officials also told the media that the teenager admitted to committing arson. As per the information, she also got injured in the fire and is undergoing treatment. She will be held in Juvenile detention after her recovery.
The man that the girl was dating is also expected of being charged with statutory rape as the girl was aged under 16.
The fire killed around 19 on the spot, while 20 students received serious injuries and were airlifted to the capital city of Georgetown. The fire was one of the deadliest involving school dorm rooms in the last thirty years.
The incident caused international outrage, as the situation was made worse by the fact that the dorm administrator failed to locate the keys due to a state of panic. The five-year-old boy was the dorm manager's son.
Shockingly, thirteen students were burnt beyond recognition and authorities sent out DNA samples to Mount Sinai lab in New York City to identify the remains. The victims also included twin sisters.
President Dr Irfaan Ali has offered full support to the families of the victims. He also participated in a candlelight vigil for departed souls. He also promised long term support to the victim's families. President also pledged compensation to the families, and establishment of Commission of Inquiry.