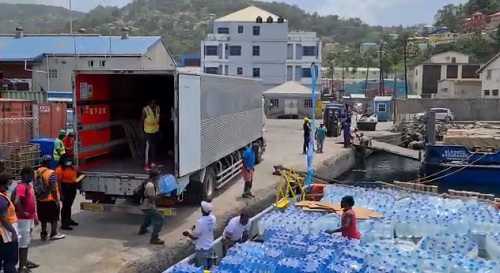 Grenada: In light of concerns about the possible exposure of citizens to COVID-19 during relief efforts in St. Vincent and the Grenadines, the nationals of Grenada, Carriacou and Petite Martinique are being encouraged to associate with the National Disaster Management Agency (NaDMA) to achieve a more coordinated and safer relief effort.
Minister with accountability for Disaster Management, Senator Winston Garraway, said the collaboration would help minimise the health hazards for Grenadians while also contributing to a better-coordinated and more impactful relief-effort.
Minister Garraway stated the health and safety of nationals is a critical consideration even as humanitarian assistance is provided. He said, "Our Vincentian brothers and sisters are facing a compounded crisis with the double impact of the pandemic and moreover the eruption of the La Soufriere volcano. 
As good neighbours, we are keen to help, and I applaud the overwhelming show of solidarity from individuals, groups, churches and businesses. However, I must advise caution – as we seek to help, we must also be mindful of the existing threat of COVID-19. 
Therefore, the recommendation is that the entire relief effort is coordinated through NaDMA so that we can ensure all safety protocols are followed. We do not run the risk of exposure to and possible transmission of the coronavirus as we engage in this much-needed humanitarian effort."
Persons wishing to donate items, in both small and large quantities, should contact NaDMA via email at info@nadma.gd to coordinate the process of getting relief supplies to St. Vincent in the most efficient-way possible while maintaining the necessary COVID-19 protocols.
In the early stages of a relief effort, it is generally not advised to send individual packages as they slow the process.
Therefore, for now, NaDMA is recommending general relief supplies that can be shipped either to the National Emergency Management Organisation or to other organisations that can distribute the supplies to persons in need.