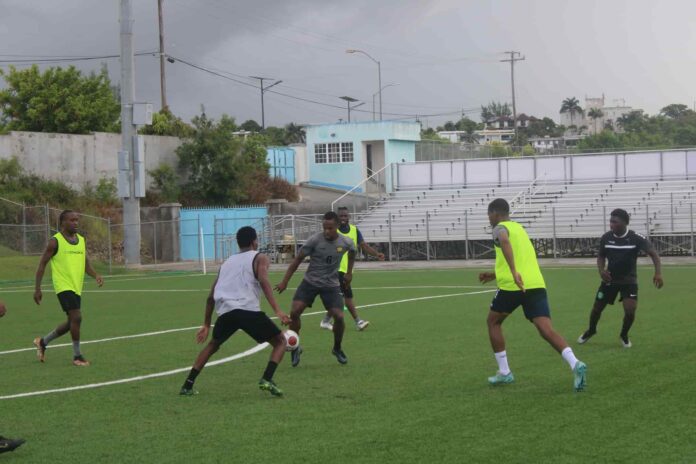 Emmerson Boyce, the Interim Head Coach and technical director of the Barbados Football Association, held his first training session with the senior men's national football team.
The Barbados Tridents are currently preparing for their game against Nicaragua on Friday, 17th November 2023, at the BFA Wildey Turf, Rubis Kendal Hill and Sports & Games. The match will start at 7:00 pm.
About Barbados Football Association:
BFA is a governing body of association football in Barbados, and looks after the functioning of Barbadian national football team.
It is to be noted that, BFA was affiliated with CONCACAF and the Caribbean Football Union in 1967 and with FIFA in 1968.
The Interim Head Coach and technical director, Emmerson Boyce took up the charge following the departure of Orlando Da Costa, the Senior Men's National Team Head Coach and assistant Ricardo Fernandes. Both the Head Coach and the assistant decided not to renew their contracts by mutual agreement.
Barbados Football Association extended their heartfelt gratitude to Orlando and Ricardo for their services in taking the Football Association of Barbados to newer heights and they also wished them success in their future prospects.
Orlando and Ricardo have given their outstanding contribution during their tenure with the men's national team. They led Barbados to a come-back away victory over Antigua & Barbuda in the finale of the 2022/2023 Concacaf Nations League in March.
They also helped the team achieve a draw against Grenada in a 3-3 International friendly series in February.
Emmerson Boyce will be the Interim head coach for the remaining two matches of the 2023-24 Concacaf Nations League. The next two matches' schedule:
– BFA vs Nicaragua on Friday, 17th November 2023.
– BFA vs Montserrat on Monday, 20th November 2023.
The Barbados Football Association will conduct a proper process for the selection of the full-time head coach.
Randy Harris, BFA President, also thanked Orlando and Ricardo for their sincere contribution to the Barbados Senior Men National team.
He also added that they will provide all the facilities and support to Emmerson and the team as they have two matches ahead of the Concacaf Nations League with them.
He stated that they are now focusing on the next two matches so that they can end the campaign on a high note by adding a victory to their tally.