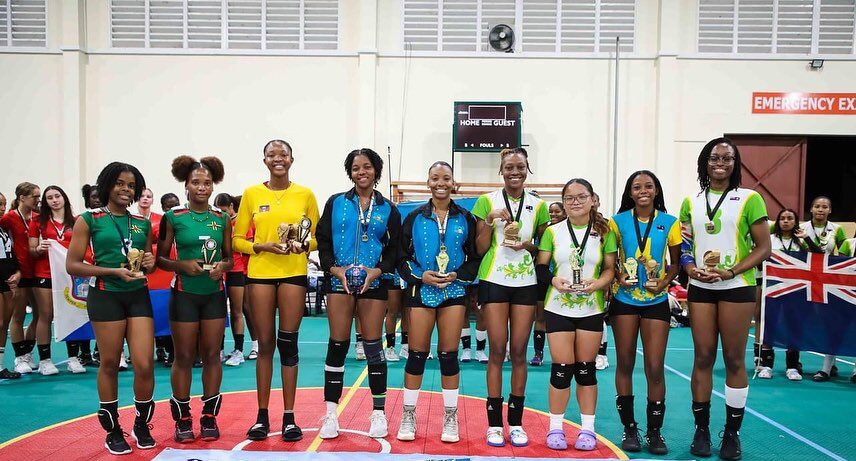 Road Town, British Virgin Islands (BVI): The Eastern Caribbean Volleyball (ECVA) Under 23 Women Championship has come to an end, and team BVI brought home the bronze.
The team bagged victory after defeating the host team, the Commonwealth of Dominica, 25-14, 25-21, 25-21 for a three (3) set, clean sweep. The Eastern Caribbean Volleyball (ECVA) U23 Women Championship was held from September 20 to September 23 in Roseau, Dominica. This news was brought into the public domain by the BVI Olympic Committee through its official social media account.
Team BVI was competing in Group B alongside Antigua and Barbuda, Anguilla, Dominica, Grenada, St Maarten, Saint Lucia and St Vincent and the Grenadines.
The (British) Virgin Islands played for the bronze medal at the Eastern Caribbean Volleyball Association (EVCA) U23 Women's Tournament from 6:00 pm on Sunday, September 24, 2023.
Highlights of the performance of the BVI girls in the tournament:
The VI girls reached the semi-finals after finishing second in Group B but lost to Saint Lucia in their semi-final game last night at the Massacre Indoor Facility in Massacre, St Paul Parish. Saint Lucia won 25-17, 24-21 and 25-17.
The VI team, who had beaten Anguilla in their final group game earlier in the day, had an opportunity to level matters in the second set when they led 19-14 but allowed Saint Lucia to rally for the comeback win. Following this, the BVI played against Dominica for the bronze medal.
Moreover, host nation Dominica then lost to St Maarten in their semi-final clash – 16-25, 11-25, 22-25.
Meanwhile, the VI lost to Dominica 1-3 in their Group B clash on Wednesday, September 20, 2023, and Sunday's clash was a perfect opportunity to avenge that defeat.
Who clinched the Eastern Caribbean Volleyball Association U23 Women's Championship?
The final of the tournament was played against Saint Lucia and St Maarten. The match concluded with the ball in the court of Saint Lucia.
Saint Lucia clinched the ECVA – Eastern Caribbean Volleyball Association U23 Women's Championship! They beat Sint Maarten in straight sets to secure the title on Sunday night.
Saint Lucia Volleyball Association, Volleyball StLucia, congratulated the team and also praised them for their outstanding and inspirational performance in the tournament. "The under-23 national team has thus far played undefeated in reaching the finals. Its opponents will be determined later tonight as Dominica takes on St Martin," it noted through social media platforms.