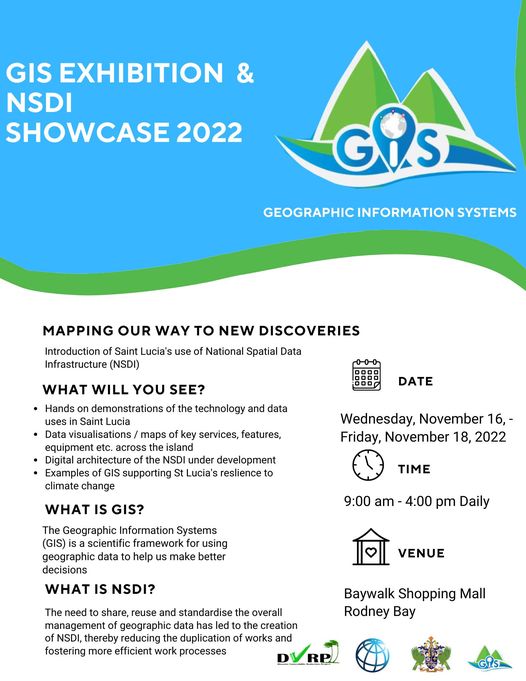 Saint Lucia: The Government of Saint Lucia has informed that the Disaster Vulnerability Reduction project will host a National GIS Exhibition and NSDI showcase next week.
A Geographic Information System (GIS) is a computer system used for capturing, analysing, storing, and displaying data related to positions on the surface of the Earth. GIS can combine many different kinds of data on one map in order to respond to real-world problems. Improvements can potentially be made in the agricultural sector, housing, state/government services and preparedness for natural disasters.
Additionally, the need to share geospatial data has led to the need for a National Spatial Data Infrastructure (NSDI). The NSDI is defined as technology, policies, standards, criteria and human resources required to coordinate and promote data sharing throughout the public sector, private sector, academia and NGOs.
The objectives of the showcase are as follows;
• To provide education, awareness and sensitization of all sections of the population on the benefits and capabilities of Geospatial Technology and a National Spatial Data Infrastructure (NSDI)
• To develop and share practical use cases of inter-agency projects leveraging geospatial data.
• To share an early version of the spatial data-sharing platform that the NSDI will use for dissemination with stakeholders.
The Symposium also helps stakeholders; understand the "big picture", including, what the NSDI will accomplish, and understand and respect each stakeholder's role, thereby eliminating the duplication of work efforts and improving work synergies and processes between government departments and other agencies; and recognize the NSDI as a data management tool that enables the efficient flow, manipulation and analysis of data to achieve increased socioeconomic, environmental and structural stability, including enhanced resilience to climate change and transparency.
The National GIS Exhibition and NSDI showcase 2022 will be held at the Baywalk Mall on August 16 and 18, from 9 am to 4 pm.