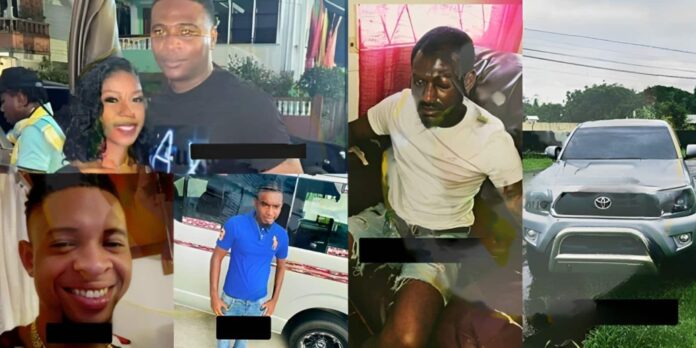 A businessman was robbed of $5M cash and a vehicle after he was badly beaten by the mother of his child, her friends and family on Monday, 13th November 2023 in South Georgetown, Guyana.
The businessman has been identified as Andre Terrence Williams, a resident of Hunter Street, Georgetown.
This incident occurred at around 2:30 hrs. While talking to an interview with one of the news channels, Williams stated that he and his female friend attended an event on Sunday, 12th November 2023. The event was hosted by Williams, another friend and from there, he collected $5 million in cash.
His child's mother and her couple of friends saw him collecting the cash at the event. 
The couple has been identified as Monique Campbell and Wayne Quinn. Williams met his child's mother at the event and informed her that he had come with another woman at the event.
Williams and his child's mother left together for the South area to pick up their daughter from her relatives. When he arrived at South, the victim revealed that the woman had started arguing with him.
He added that his child's mother became violent and tried to hit him, but her own nose started to bleed. He claimed that he didn't hit her and he isn't sure what all of sudden happened to the woman.
Moreover, the woman was taken to the hospital by her relatives. Subsequently, the couple tried to trap Williams, as Quinn took off a chain that he was wearing around his neck and his wife, Campbell, pushed her hands into William's pocket and started shouting that she got the chain in his pocket.
Afterwards, Quinn, along with the relatives of his child's mother, all came out from their house and they started beating Williams.
Subsequently, police officials arrived at the scene, arrested the businessman, and took him to the East La Penitence Police Station.
Unfortunately, he left his vehicle and all other belongings, such as cash phones, at the scene where he was brutally beaten.
The police officials took him to the Diamond Diagnostic Centre as he was severely injured and bleeding. Then, for further treatment, he was taken to the Georgetown Public Hospital Corporation.
After being discharged from the hospital, the victim was brought back to the East La Penitence Police Station to record his official statement about the incident.
After his statement, he was sent back to his home. Later on, the businessman found that his vehicle, along with cash, two cell phones and his other belongings, were missing.
He later found out that one of the iPhones was discovered by his child's mother, whereas his IDs and all his important cards were found by Quinn.
As per the Williams statement, no one has been arrested yet which is why he is pleading for justice.