Barbados: On Friday, Barbados reported 2 new positive cases of COVID-19, one male and one female, from the 678 tests conducted by the Best-Dos Santos Public health laboratory.
Whereas five persons have recovered from coronavirus, and 109 persons remain under isolation as a health security measure.
According to data provided by the government, Barbados has reported 3,933 COVID-19 cases (1,899 females and 2,034 males) since the beginning of the COVID-19 pandemic. Total 3,852 persons have been fully recovered from coronavirus, and 45 deaths have been reported so far.
Since February last year, the Public health laboratory has carried out 158,284 tests till now. As part of the national vaccination programme for COVID-19, 75,452 people have been inoculated, including first and second doses in the country. According to the Ministry of Health data, 30,450 persons have been fully inoculated during the second phase of the vaccination programme in Barbados.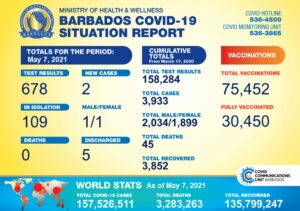 Notably, the government of Barbados had received 100,000 COVID-19 vaccines from the government of India in early February this year. After which, in April, Barbados received 33,600 doses of COVID-19 vaccines through the COVAX facility of PAHO.
The Ministry of health and wellness also provided Covid hotline number to provide assistance to the people who are suffering from any sort of health issues in the country. To contact the Covid monitoring unit, people can dial 536-3865, or they can simply contact to Covid hotline 536-4500.
The government's efforts to curb the COVID-19 spread has so far been successful, and the vaccination drive has seen substantial results as people are coming forward to received the Oxford Astra-Zeneca Covishield vaccine to help the tackle COVID-19 situation in the country. Barbados was the first country to receive COVID-19 vaccines in the whole Caribbean region, which might lead the country to become the first country to attain herd immunity.