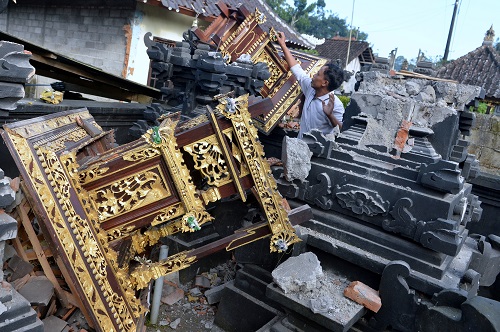 Denpasar, Bali: Three individuals died after 4.8 magnitudes earthquake hit the Indonesian island – Bali on early Saturday morning.
According to the US Geological Survey, the magnitude 4.8 quake was centred 62km (38.5 miles) northeast of Singaraja, a Bali port town.
The earthquake destroyed various buildings, including temples and leaving several people trapped in the rubble. The Bali Province Regional Disaster Management Agency (BPBD), while giving their statement on Saturday, cited that the 4.8 magnitudes of the earthquake have destroyed buildings in Karangasem and Bangli regencies on the east of the island.
The rescue process is going on in Karangasem, where people remain trapped in the vestiges of a building. Seven individuals were seriously injured, while one person lost their life.
On the other hand, two individuals scummed to their injuries caused by the earthquake in Bangli, where landslides caused by the quake blocked a road, hampering evacuation efforts.
The Disaster Management Agency is warning people to be prepared for possible aftershocks.
Bali has reopened its borders to fully vaccinated visitors from 19 nations this week only. The decision has been taken with the aim to boost the tourist-dependent economy of the island nation that was being affected by the ongoing deadliest COVID-19 outbreak.
A 4.3 magnitude aftershock followed, which was relatively deep, at 282km (174 miles). Among the three individuals who died was a three-year-old girl who was hit by falling debris.
I Nengah Kertawa, the head of Bunga village in Karangasem, stated that "Nearly 60 per cent of the houses in our village were damaged and can no longer be lived in."
Indonesia is frequently hit by earthquakes, volcanic eruptions and tsunamis due to its location on the 'Ring of Fire' – an arc of volcanoes and fault lines in the Pacific.
The last major earthquake took place in the month of January when a magnitude 6.2 earthquake killed at least 105 people and injured nearly 6,500 individuals. Over 92,000 people were displaced after it struck Mamuju and Majene districts in West Sulawesi province.