Antigua is one of the world's most beautiful tropical islands. Antigua is famous for its three hundred and sixty-five beaches, beautiful scenery, world-class carnival, authentic Caribbean culture and most importantly, Antigua Villas.
There are over seventy villas in Antigua. St James's Club and Estate Villa is one of the resorts that provide a luxurious stay with their lavish amenities.
About the resort, St James's Club and Villa:
St James's Club & Villa is a hidden gem on a private 100-acre peninsula in Antigua. This is an inclusive resort which offers warm hospitality and invites its visitors to experience the endless beauty of Antigua.
There are many places to explore, with popular attractions like Nelson's Dockyards and Shirley Heights which is just a 15-minutes' drive away.
The Villa also offers a variety of dining options, from beach bars to intimate restaurants, all within the luxurious ambience of the restaurant.
The highlights of the Villa include the following:
6 Swimming pools
2 White Sand beaches
5 Restaurants + Beach Grill
Water Sports
Fitness Centre
Kids Club and Teen Activities
Scuba Diving
Sports Fishing
Spa and wellness centre
Tennis Courts
6 Bars
Coffee and Pastry Shop
Beach Volleyball
Cinema
Tranquillity Body & Soul Spa
Monthly Full Moon Party
St James's Clubs and Villa offer you extraordinary rooms, suites and villas to fit everyone's needs and preferences.
ACCOMMODATIONS:
St James's Club & Villa offers its visitors spacious and stylish hotel-style guest rooms. It provides different types of rooms.
Club rooms– The club rooms feature elegant dark wood furnishings and a beautiful private balcony and terrace where one can enjoy the tropical garden views during the day and the enchanting sounds of Antigua's nature at night.
Premium rooms-Premium rooms are best suitable for families or larger groups. One can enjoy the ocean or garden view from such spaces.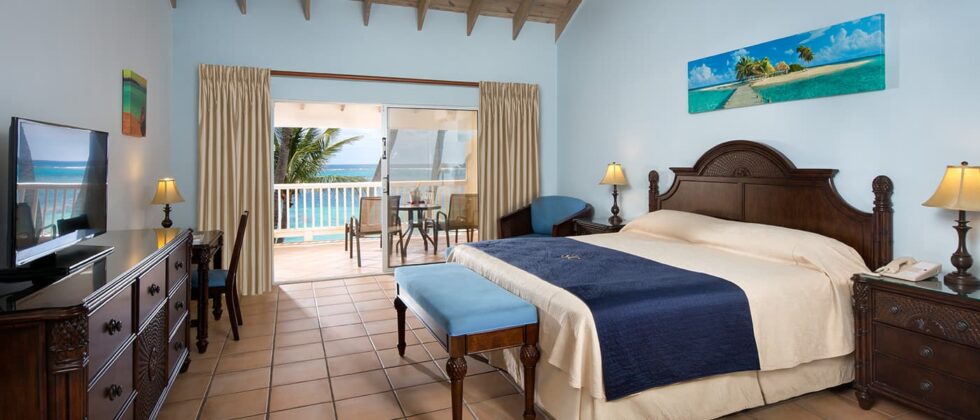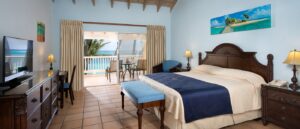 Beachfront rooms– These rooms provide the utmost flexibility in accommodating couples, families or small groups. Both the ground floor and second-story balcony showcase the beautiful view of Coco Beach so that one can enjoy every minute of the Caribbean.
Villas
The Villas at the Club can comfortably accommodate up to 8 guests, making them a versatile choice for families, couples and even wedding parties. Each Villa is equipped with a fully equipped kitchen as well as sliding glass patio doors that open up to a spacious outdoor area, complete with cosy lounge chairs and a dining table.
The Villa provides with:
Two-bedroom Villa
Three-bedroom Villa
Dining and Drinks
The Rainbow Garden Restaurant has undergone a complete renovation to highlight its lush tropical surroundings. It also offers an exciting new dining experience for breakfast, lunch and dinner. It also serves up casual buffet-style dining for breakfast and lunch.
In the evening, it offers a La Carte dining at Rainbow Garden, with a variety of delicious options to choose from.
The package of the resort includes:
Private airport transfers for one's convenience.
Round-trip economy flights with British Airways, including a 23 Kg baggage allowance
A 10-night stay at St James's Club & Villas, where one can enjoy the all-inclusive experience in a Premium Partial Ocean View room.
It offers a 30% Early Bird Offer to enjoy ten nights at St James's Club & Villa.