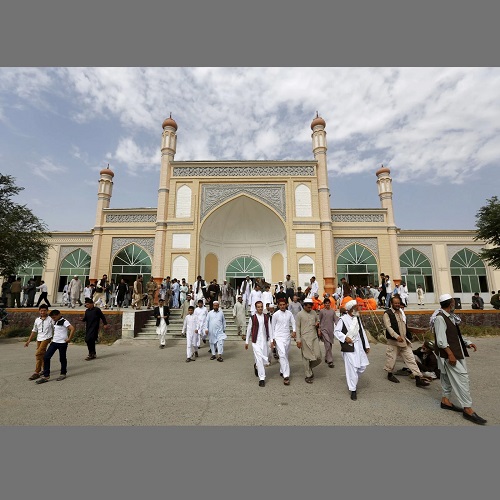 Kabul, Afghanistan:
Taliban
officials stated that on Sunday, five citizens in Afghanistan lost their lives in a bomb blast outside a Kabul mosque.
There was not any immediate claim of the responsibility, but Islamic State extremists are considered a suspect who has stepped up attacks on the
Taliban
in the recent weeks, especially in an IS stronghold in the eastern Afghanistan.
                                                                                                                                                                                                                                                                        Qari Saeed Khosti – the spokesman of the Interior Ministry, stated that "While a memorial service was being conducted for the mother of chief Taliban spokesman, Zabihullah Mujahid, a roadside bomb went off at the gate of the sprawling
'Eid Gah Mosque
in Kabul.
This is one of the deadliest attacks in the Afghan capital since US forces left at the end of August month.  Any further information or update has not been provided yet.
Bilal Karimi,
a Taliban spokesman
, further informed that three suspects were arrested in Sunday's explosion in Kabul. He stated that the Taliban fighters were not injured.
 In the month of late- August, an IS suicide bomber targeted American evacuation efforts at Kabul's international airport. The blast killed 169 Afghans and 13 service members of the United States.
Attacks in the capital city of
Afghanistan
have so far also been rare, but in the past few weeks, IS has shown the signs that it is expanding its footprint beyond the 'east and closer toward the capital'.
Besides this, on Friday, the Taliban fighters raided an IS hideout just north of Kabul in the area of Parwan province. The
raid
was conducted after an IS roadside bomb wounded 4 Taliban fighters in the area.
One of the
Kabul Residents
cited that he heard a loud sound, and in the meantime when he came outside,  he saw people running away. After which, an Italian-funded emergency hospital in the capital city tweeted that it had received four people wounded in the blast.